President Obama Sent First Presidential Live Tweet on Mac @ Twitter Town Hall
President Barack Obama held the first ever Twitter Town Hall meeting using the Presidential MacBook Pro.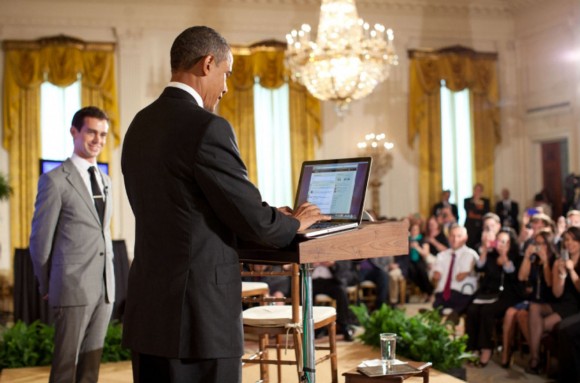 In the official White House photo above, Commander in Chief Barack Obama used an Apple laptop with Mac OS X and Twitter web client to tweet a question. Also on stage is Jack Dorsey, Twitter Executive Chairman (and co-founder of Square).
Besides Mac, there are at least 3 iPad sightings.
There's an iPad on the table on stage (next to glass of water).
When Obama walked in, girl front row right using iPad 2 to take photo or video.
When Obama got on stage, man with White iPad 2 recording video
President Obama's iPad 2 is not shown.
Video: First White House Twitter Town Hall
Video showing President Obama answering questions on jobs and the economy at Twitter Town Hall, which took place at the White House East Room on July 6. The first President live tweet is a question sent @whitehouse:
"In order to reduce the deficit, what costs would you cut and what investments would you keep – bo"
[White House and AskObama.Twitter.com, first photo by @whitehouse]

Related Posts