Pandora Internet Radio Drops Flash for HTML5
Music streaming company Pandora Radio is on a phased roll out to kill Flash completely from its website, replacing with more responsive front-end built with HTML5.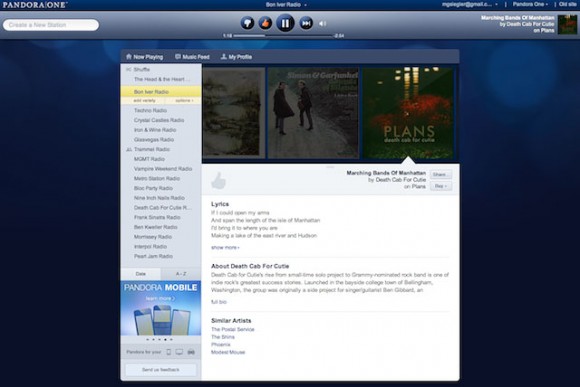 Pandora head of product and CTO, Tom Conrad:
"At first, we had been talking about more incremental changes, with the site still operating in Flash. But then last summer, it became clear that browsers with full HTML5 capabilities had gained enough support. We realized we could do the full Pandora experience without Flash."
HTML5 Pandora features:
Faster start-up times. To start playing music, current Flash based Pandora takes about 10 seconds, while the new HTML5 site takes about 2-3 seconds.
Music can continuously play while user browse around Pandora, without need for pop-up window containing Flash.
Browser back button no longer crippled by Flash.
You can share an actual URL now thanks to the HTML usage, instead of requiring widget to generate a URL.
Starting today, the new HTML5 Pandora is on a phased roll out, expected to complete "over the coming weeks and months". It will be first available to subscribers of the Pandora One service.
Pandora internet radio is US only. Founded 11 years ago in 2000, the company recently had its IPO, and is valued at 3 billion dollars today. Last winter, Pandora reports its most success mobile endeavor is its iPhone app.
[New Pandora Features & Pandora blog via Tech Crunch]

Related Posts