Matrix Lobby, A Capella Multitrack Sound FX by Mac Musician
Amusing video of The Matrix sound effects replaced by one man multitrack a cappella.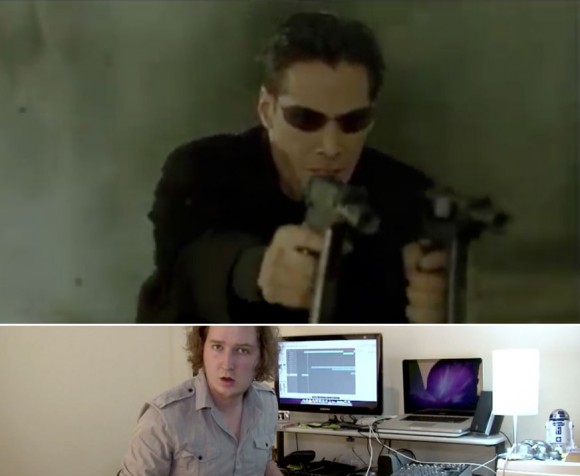 Video: Matrix Lobby A Capella Sound FX
Matt Mulholland on his a capella video, based on the Matrix lobby gunfight scene with Neil and Trinity:
Complete with sound FX!! …Guns go "pew pew" right?

Original song – 'Spybreak!' by Propellerheads
Video: Matt Mulholland on Mac
Here's Matt with Mac laptop connected with USB to Korg PS60 keyboard [Amazon
], singing Pokemon theme song:
Video: A Capella Tribute to Will Smith
Another fun video, Big Willie Medley (Will Smith A Capella Multitrack):
It's a tribute to Will Smith, featuring parts of the songs: Fresh Prince of Bell Air Theme, Wild Wild West Theme, Men in Black Theme, Gettin' Jiggy wit it, and Just the Two of Us.
No iPad a cappella at this time though.
[Matt Mulholland: youtube video 1, video 2, video 3]

Related Posts