Jailbreak iPad 2, iPhone 4 with iOS 4.3.3 + Fix PDF Exploit
Jailbreak all iPad, iPad 2, iPhone 4, and iPod touch with iOS 4.3.3. Untethered.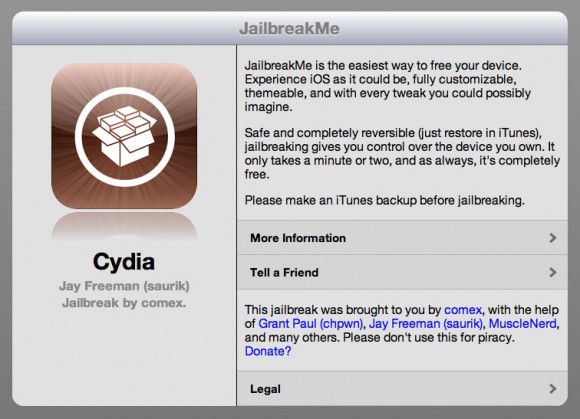 Untethered Jailbreak of iPad 2, iPhone 4, iPod touch
Comex released the only jailbreak that supports iPad 2:
1. Open iTunes, select "Transfer Purchases" under Files menu, and right click on device on side bar and select "Back Up."
2. On iOS device, use mobile safari to go to jailbreakme.com
3. Once Cydia is installed, search and install "PDF Patcher 2″ to patch the PDF exploit.
Jailbreakme currently supports jailbreak of:
iPad: 4.3 through 4.3.3
iPad 2: 4.3.3
iPhone 3GS: 4.3 through 4.3.3
iPhone 4: 4.3 through 4.3.3
iPhone 4 CDMA (Verizon): 4.2.6 through 4.2.8
iPod touch 3g: 4.3, 4.3.2, 4.3.3
iPod touch 4g: 4.3 through 4.3.3
Problems: @Comex mentions: "Okay, there is a known issue with the Camera Connection Kit and JailbreakMe." (Update: should be fixed. Verizon iPhone 4 jailbreak stuck at boot during jailbreak is also supposed to be fixed too).
If you have problems, restore to iOS 4.3.3 but do not sync with iTunes / restore your data. Jailbreak first, then restore data.
OP suggest waiting a few days for the jailbreak bugs to be fixed. OP security tip: Adobe PDF and Flash are full of holes. iOS doesn't suffer from flash, but do not download PDF from unknown websites on any device, including computers.
Jailbreakme.com iPad 2, iPhone Jailbreak FAQ
Unofficial iPhone-dev team published the Jailbreakme times 3 FAQ. For example, iPad 2 GSM / CDMA has limitation with future restores to iOS 4.3.3.
Q: Will I permanently lose the jailbreak if I need to restore my device?
A: For all except the iPad2, saving your SHSH blobs should let you always restore your device to iOS versions where this jailbreak works. The iPad2 is a little more complicated. If you have a wifi-only iPad2 and saved SHSH blobs, you're in good shape. But if you have the GSM or CDMA iPad 2, you won't be able to restore to 4.3.3 or lower once Apple stops signing its baseband.
What about iPhone 4 unlock? There is still no software unlock for iPhone 4 or iPhone 3GS with the latest baseband.
TIP: After jailbreak, you can download VLC player from Cydia. The app can play AVI, MKV, and other video formats in SD. (VLC is not available from the App Store due to vicious Nokia employee.)

Related Posts