iPhone Augmented Reality Cinema
Use an iPhone + augmented reality to watch famous movies scenes from where it was filmed!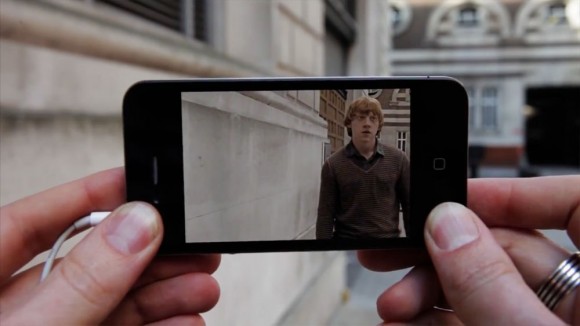 Video: iPhone Augmented Reality Cinema
The video is a demo of a neat app using selection of films shot in London, including Harry Potter, Snatch (or is it: Lock, Stock and Two Smoking Barrels), and some kind of Zombie / apocalypse movie. What, no James Bond? You can't download iPhone Augmented Reality Cinema in the App Store though, as it's a concept app.
How would it work? ObamaPacman expects to see a GPS map with clip locations. Movie connoisseurs could go to location, point iPhone camera to see movie clips that was shot there. OP foresees these difficulties:
Getting movies studios to cooperate (very difficult)
Expense to catalog all the clips (if a grill cheese sandwich can get $10 million venture funding, nothing is impossible)
Most movies are shot with multi-camera, thus clips would be very short or fragmented. Will we get clips as short as videos of the Futurama Hypnotoad?
We'll probably see iPhone 5, iPad 3, and Apple Cupertino spaceship headquarters construction completion first before this app concept becomes reality.
[Augmented Reality Cinema via Geekologie]

Related Posts