iPhone App Offers Government Grade Encrypted Cellcrypt Phone Calls
An app that costs more than the iPhone can provide highly secure encrypted phone calls around the world.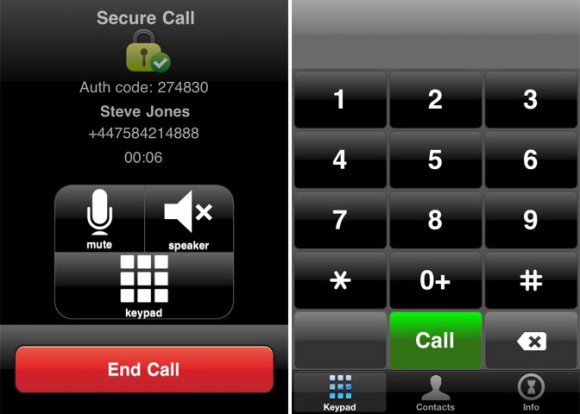 OMG, double iPhone VoIP phone call encryption all the way. Cellcrypt:
"Cellcrypt's encryption technology has been certified to FIPS 140-2 security standard, approved by the US National Institute of Standards and Technology. Cellcrypt's cryptography includes industry-standard high-strength algorithms including 2048-bit RSA for authentication, Elliptic Curve Diffie-Hellman and RSA protocols for key exchange, and 256-bit AES for voice encryption. For added security, the data is encrypted twice using 256-bit RC4 and AES.

Cellcrypt solutions are used routinely by governments, corporate enterprises and consumers worldwide and support cellular networks in 200+ countries for easy and consistent international calling. Cellcrypt has local partners worldwide that provide voice security consulting services including reselling and implementing Cellcrypt-based solutions."
The VoIP service is similar to Skype, except it's encrypted. It meets US government's 140-2 FIPS (Federal Information Processing Standards), which can be used for certain classified communications. Both phones need to connect to the internet, and the service is also available on BlackBerry.
Perfect for James Bond, other secret agents, and heads of state?
Cellcrypt Mobile [App Store] for iPhone and iPod touch (iPad compatible too) is free, but its service costs "£2,500 per annum", or about $4000 USD per year. (Some sites such as app advice miscalculated it to $1600).

Related Posts