iPhone 4 Flying on Final Space Shuttle Mission STS-135
Apple smartphone will be used to conduct science experiment on the final flight of shuttle Atlantis and the NASA Space Shuttle Program.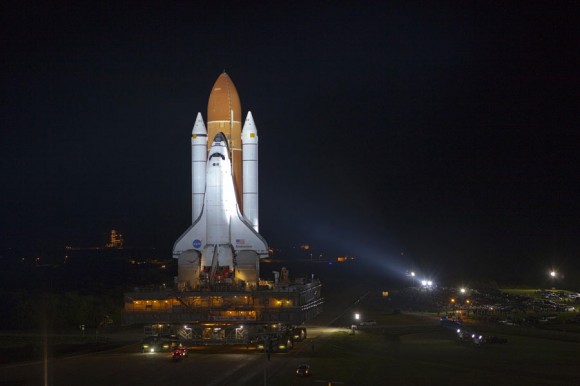 We've seen iPod in space shuttle. Now, two space certified Apple iPhone 4s will travel on space shuttle Atlantis' final mission STS-135, scheduled to launch Friday July 8 at 11:26 a.m. EDT.
iPhone App for Space Experiments
NASA:
There is at least one first involved with space shuttle Atlantis' STS-135 mission, a flight notable for its lasts: the crew is taking the first iPhone into space to help with experiments aboard the International Space Station.

A Houston company called Odyssey Space Research developed an application for the Apple smartphone that is meant to help the astronauts track their scientific results and perhaps one day aid navigation. The device will be housed inside a small research platform built by NanoRacks. The platform will be placed inside the station.
The iPhone app is SpaceLab for iOS [App Store, $0.99]. The App Store version is identical to the space shuttle version. Developed for experimentation in space, the app offers a "simulated experience to users on the ground."
Wired on iPhone space certification and experiments:
Getting any gadget aboard a NASA space shuttle, much less the space agency's very last mission on July 8, involves a grueling certification process that typically takes up to two years. The device can't off-gas dangerous chemicals into recycled air, interfere with electronics or otherwise compromise mission performance.

Without relying on wireless communication, SpaceLab can tell astronauts their altitude by analyzing Earth's curvature, which becomes more pronounced with distance. Sequential photos of Earth's coastlines, perhaps snapped from the space station's big window, will give orbital position and spacecraft speed. Letting the phones rest will allow SpaceLab to measure radiation by looking for "single bit upsets," when radiation smacks into a memory bit and changes its value (from 1 to 0 or 0 to 1).
The iPhone 4s will remain on the International Space Station until September, when a Russian Soyuz spacecraft will bring them back to Earth for analysis.
There is no Angry Birds on the NASA iPhone 4s though. The question is, will Atlantis' astronauts use iPhone to tweet space shuttle launch?
Space Shuttle Atlantis Launch Live Video Streaming
Few options to watch live streaming videos of the last ever space shuttle launch:

Related Posts