iPad Speed Typing, Unofficial World Record [Video]
Brian Sweet demos speed typing using white iPad 2 and iPhone as timer.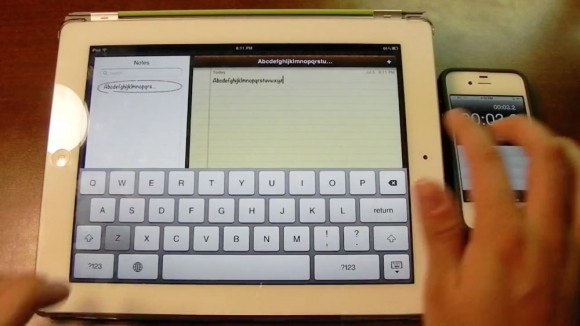 Video: iPad Speed Typing, Unofficial World Record
In response to the iPad Speed Typing Guinness World Record of 5.26 seconds, Brian Sweet @besweeet at Gumball Tech shows his record beating time.
"Took about 25 minutes before I could get a good rhythm. Turns out that it's much easier when standing up."
Brian was able to type the alphabet on iPad in 3 seconds! The typing started at 0.3 second and finished around 3.2 second on the iPhone timer.
So, did he break the Guinness World Records for iPad speed typing? Not exactly. The record 5.26 seconds was done with one hand, while Brian Sweet's faster record was done with both hands.
Brian previously showed iPhone beats Android texting speed "world record". He is willing to go for the real record if any media crew want to record the attempt (contact him at besweeet at gmail.com).
[youtube via cult of mac]

Related Posts