iPad Photojournalism Experiment: Via PanAm
Travel from Chile to Alaska with renowned photojournalist Kadir van Lohuizen, through an iPad app.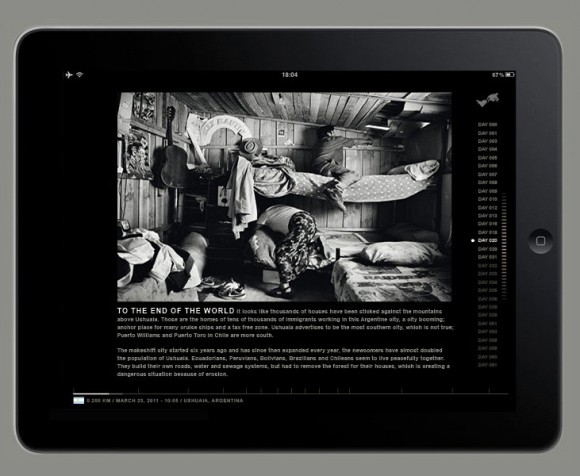 Mr. Van Lohuizen is devoting 40 weeks of his life to investigate contemporary migration in the Americas.
Although traditional photojournalism models won't support such a trip, Kadir is testing to see whether publishing on iPad can can sustain such long-form journalism. Traveling during the day, and editing at night, he publishes phtos, audio tracks, and videos from his photojournalism trek to an iPad app: Via PanAm. About the project:
People move all over the continent. Looking for work, a different life, a better life and fleeing because of conflict. Sometimes people cross a border for these, often they move to other regions in their own country. For this Kadir van Lohuizen will travel from Tierra del Fuego (Chile) to Alaska and will use the Pan-American Highway as a point of reference. In the end it is the road that people mainly use to move on in life.

The route followed runs from Tierra del Fuego in southern Chile to Prudhoe Bay, northern Alaska. The Pan-American Highway is the primary route, leading Van Lohuizen over more than 25.000 km and past 15 countries.
Started on March 16, 2011 in Chile, Kadir van Lohuizen is currently around Colombia. Although it states "weekly" updates, on average he publishes every three days. A portion of his documentary is available on the Via PanAm blog. Full version on iPad.
Quite interesting to see a multi-media book being published in real time. Perhaps the iPad become Kickstarter of photojournalism efforts? Only time will tell.
PS. Starting any day now: BBC to use iPhone / iPad for live broadcasting.
Via PanAm [App Store $3.99 via NYTimes & Giz]

Related Posts