Google Engineer: Java Alternatives "All Suck", Android "Needs to Negotiate a License"
Oracle Sun vs. Google Android Java patent infringement suit is about to get serious, with possibility of willful infringement and permanent injunction.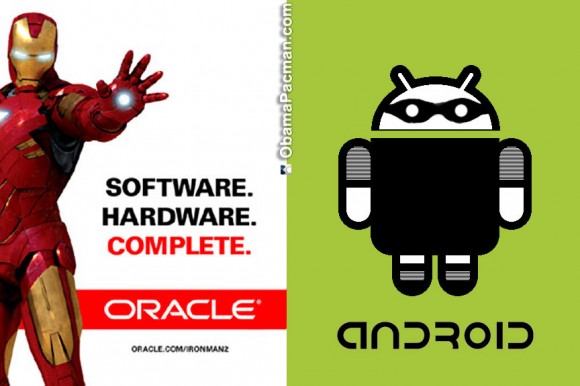 Android Possibly Willful Infringe Oracle Sun Java
Oracle is suing Android for violating patents and using Java without license, and is seeking damages and possible injunction. In Federal court yesterday, Judge Alsup hints bad news for Google and future of Android.
Oracle presented an email sent from Google engineer Tim Lindholm to Andy Rubin, head of Google's Android division. Moconews reports:
Alsup actually read part of it aloud from the bench: "What we've actually been asked to do by Larry [Page] and Sergey [Brin] is to investigate what technical alternatives exist to Java for Android and Chrome. We've been over a bunch of these and think they all suck. We conclude that we need to negotiate a license for Java under the terms we need."

Alsup then said to Google's lawyer: "You're going to be on the losing end of this document—with Andy Rubin on the stand. If willful infringement is found, there are profound implications for a permanent injunction."
The Java alternative for Android research was conducted in 2010. That explains why despite the "success" of Android, Google still released Chrome OS, which is incompatible with Android. (Chrome OS is basically made as a a crippled netbook OS that currently requires constant internet connection to function, and to allow Google data-mining and ad serving.)
Oracle Java vs. Google Android: Cost of Damages
Judge Alsup also asked the plaintiff to scale back its $6 Billion claims due to Oracle cutting back the number of patent infringement claims. However,
Alsup also said that Google's own damage suggestion — that it owed zero damages even if it infringes Oracle patents — was silly as well.
ObamaPacman: Cutting down numbers of patents involved is typical for intellectual property lawsuits though. The plaintiff typically includes patent claims of everything and the kitchen sink in the initial litigation, and then narrows down to the strongest claims.
What about the damages? Mercury News reports:
At several points, the judge appeared to be prodding the two sides into negotiating a settlement before the case comes to trial this fall.

Google will have to pay damages "probably in the millions, maybe in the billions" if it is found liable in the case, Alsup warned. But the judge seemed to agree with Google that an Oracle expert had gone too far in estimating damages of as much as $6 billion, although he did not formally rule on Google's motion to throw out the expert's report.
ObamaPacman: The problem is, if Google gets the license cost low enough, Oracle could simply ban Android from using Java instead of joining Microsoft to collect Android tax.
In addition, with recent finding that iPhone wannabe HTC Android phones infringes on Apple patents, which might result in ban of Android devices by the US International Trade Commission, future of Android is bleak.

Related Posts