Fake Apple Store in China: Secret Video
Video of the fake Apple Store in Kunming, China by Bird Abroad, plus OP's real Apple Store vs. fake store comparison.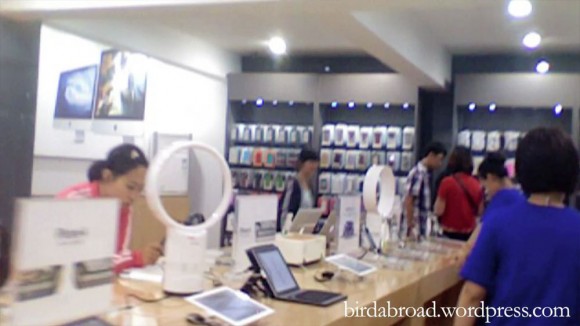 Video: Fake Apple Store in Kunming, China
Bird Abroad:
"A brief visit to one of the most famous Apple Stores in the world, which isn't really isn't an Apple Store, filmed on July 22, 2011 with the help of my MacBook."
Perhaps she edited the video on her Mac? Doesn't seem like she walked around using her Apple laptop as a video camera. When the camera is closed to employee's face, there is no glow from a laptop screen.
Real store: no fans except Apple fanboys such as OP, if the Apple haters are to be believed
Fake store: has weird futuristic $400 Dyson bladeless fans [$300 on Amazon
]
Real store: customers mostly stand or walk around, except in training areas
Fake store: child-sized ball seats throughout the store, which are used only in the kids section in the real Apple Stores
Real store: has Genius Bar with market leading support
Fake store: no Genius Bar (no Microsoft Guru Bar either)
Real store: only shows the iconic Apple logo on store front, no text
Fake store: has words "Apple Store" with Apple logo and Chinese translation
Real store: only the latest displays, currently MacBook Air balloon flight, and giant iPad
Fake store: displays retired iPod silhouette ads
[bird abroad and her youtube]

Related Posts