Fake Apple Store + Fake Apple Stoer in China
In Kunming China, there are at least 3 fake Apple Stores selling real iPad 2, with employees believing that they work for the real Apple Inc.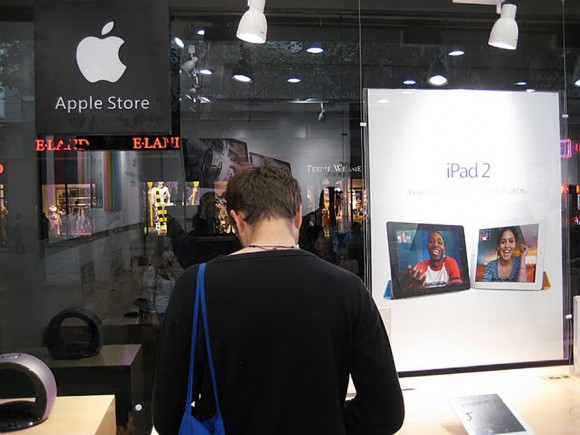 Expatriate Bird Abroad appeals to Steve Jobs:
"Anyone from Apple want to come down to Kunming and break open a can of [Intellectual property] whoop-ass?"
Fake Apple Store, Kunming China
The J. J. Abrams hit Alias TV show comes to life. All it's missing is fake Steve Jobs CEO + StarFucks PornQueen coffee.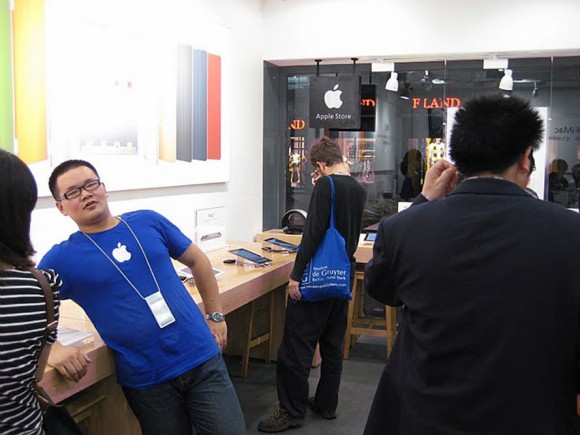 After living in China for 3 years but shortly in Kunming [map], Bird Abroad recently discovered not one but three fake Apple Stores in the remote Chinese city:
You have already guessed the punchline, of course: this was a total Apple store ripoff. A beautiful ripoff – a brilliant one – the best ripoff store we had ever seen (and we see them every day).

The name tags around the necks of the friendly salespeople didn't actually have names on them – just an Apple logo and the anonymous designation "Staff".

Being the curious types that we are, we struck up some conversation with these salespeople who, hand to God, all genuinely think they work for Apple.
While taking photos, Bird Abroad and her husband were confronted by staff and security, but being smart travelers, they got out of the situation:
I…may or may not have told them that we were two American Apple employees visiting China and checking out the local stores. Either way, they got friendlier and allowed me to snap some pictures.
Smart move.
Chinese Apple Stoer, Fake Apple Store
She found two more fake Apple Stores near by, one is even called "Apple Stoer":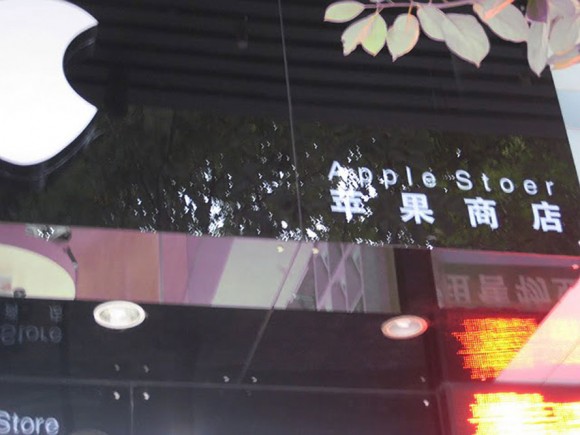 It's definitely not a temporary pop-up Apple store.
The problem besides the misspelled Apple Stoer is that Apple doesn't have any stores in Kunming China. There are currently four official Apple Stores in China, two in Beijing (Apple Store, Sanlitun and Apple Store, Xidan Joy City), two in Shanghai (Apple Store, Pudong and Apple Store, Hong Kong Plaza).
Check out the full story at:
[Bird Abroad]

Related Posts