Apple Haters Are the Dogmatic Cultists – Daring Fireball
Cult of Mac haters, drinking sour-grapes-ade, cannot accept the tech reality.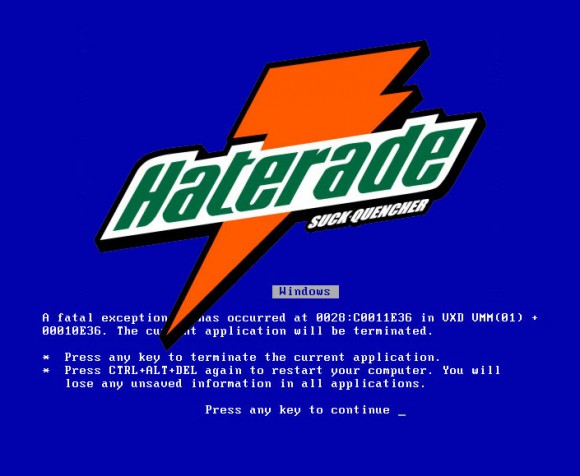 Apple hater Demetrius Mandzych, who cannot comprehend reasons behind Apple's success in the past decade:
"The genius of Apple is that it is fooled its customers into going along with this rap. Customers then justify their purchase of average to below-average products to themselves."
Scrutinizing the mindless statement, Daring Fireball's "Doesn't Sound 'Sober' to Me" article describes:
"Here's the thing. Apple's products do not appeal to everyone. In particular, they do not appeal to those who have no appreciation for Apple-style design. And for whatever reason, some of those people, like Mandzych, have decided that there is something wrong with the people who buy Apple products, not that there is something appealing and unique about Apple's products…

The idea that Apple customers are foolish and gullible is what some people have always thought about Apple. But it's becoming an ever more untenable position as Apple's customer base continues growing. It's the Apple-haters who are beginning to look more and more like dogmatic cultists who have their heads in the sand."
Apple vs. Microsoft
ObamaPacman to silly haters. You want the truth? You can't handle the truth. Here are some examples in recent times. Including some examples from decade of Apple conquests against Microsoft:
Apple:
Market dominating music player: Apple iPod, undisputed for a decade
Largest music store: iTunes beating out Walmart and Amazon
Most profitable smartphone, one that consumers are actually willing to pay for: iPhone
Largest and most successful mobile software store: App Store
Most successful tablet: 2010, year of iPad
Largest tech company by company value (aka market capitalization)
While Microsoft:
Failed at making iPod knockoffs: Microsoft Plays for Sure (abandoned), Zune (1% market share)
Lost music store war: abandoned Plays for Sure, minimal adoption of current program
Windows Mobile never gained dominance, WiMP 6.5 is now obsolete, Windows Mobile Phone 7 is incompatible, Windows Phone Kin is a failure
Remember Windows Marketplace for Mobile? Another Microsoft failure. Now, Microsoft objects to Apple App Store trademark, in an attempt to steal some of Apple's iPhone "there's an App for that" good will and product recognition.
Decade of Microsoft Windows tablet PC efforts started by Bill Gates never gained traction, steamrolled by Apple iPad
Stagnant market cap, due to inability to make significant amount of money besides Windows PC tax and Office productivity tax
None of Microsoft's recent effort at ape and maim has any effect on Apple's growth. At least Microsoft still has faith in Windows zombies and atrocious design.

Related Posts