Bungie Released FPS Marathon for iPad
Precursor of Bungie Halo, the innovative Mac-only first person shooter Marathon from 1994, comes to iPad.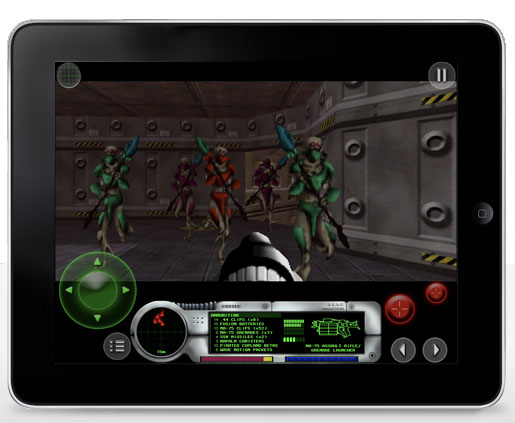 Marathon for iPad features:
Classic Macintosh gameplay
"Carnage is as easy as point and shoot." -Marathon Manual
27 levels divided into six chapters
Missions include exploration, puzzles and extermination
7 unique weapons
Marathon is the first video game to feature mouse look. Marathon is also one of the earliest (if not the first) shooter to use the weapon magazine system, offering additional suspense during weapon reloading. Instead of a generic maze shooter (such as Doom), Marathon contains an integrated story.
The iPad version of Marathon captures the 1994 shooter well, including the pixelated enemies. The crosshair is off by default but can be turned on. The game is very difficult if you do not dodge / strafe. It works fine in a dark room, but not great in bright room.
What needs improvement? When going backwards (retreating) crosshair should center.
Download Bungie Marathon for iPad
Download Bungie Marathon [App Store, free]. Two in App purchase are available. HD texture for $3.99, and "Master Chief Mode" (full weapons, infinite ammo, invincibility, instant shields, save anywhere, start on any level) for $0.99.
Marathon for iPad is created by Soli Deo Gloria Productions, LLC, which states it has permission to use "Marathon" and the circle Marathon logo from Bungie.

Related Posts