Apple Q3 2011 Financials: Revenue Up 82%, iPhone Up 142%, iPad Up 183%
Apple sets another record quarter with all time high revenue and earnings. Nokia patent license deal has no significant impact.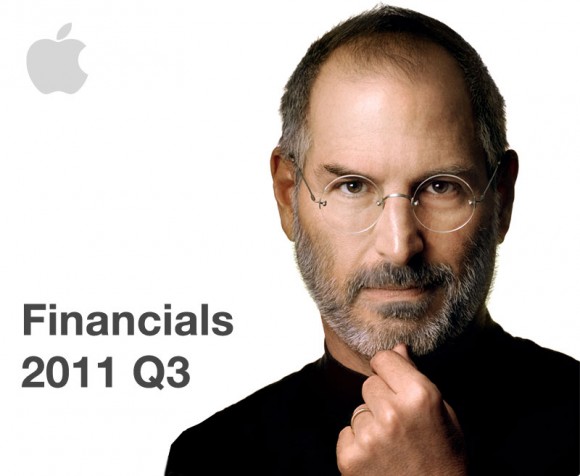 The Mac, iPhone, iPod, and iPad maker in Cupertino announces its financials for fiscal 2011 third quarter ended June 25, 2011. Here's what happened in the most recent 3 months:
20.34 million iPhone sold: 142 percent growth over same quarter last year. (Although many Verizon users are waiting for iPhone 5, the mid-cycle Verizon iPhone 4 introduction still beats Android).
9.25 million iPad sold: 183 percent growth
33 million iOS devices sold, over 222 million cumulative iOS devices
3.95 million Mac sold: 14 percent growth
7.54 million iPod sold: 20 percent unit decline YOY. (Many iPod users either upgraded to iPhone or still own Flash memory based iPod, which have a long life)
"We're thrilled to deliver our best quarter ever, with revenue up 82 percent and profits up 125 percent," said Steve Jobs, Apple's CEO. "Right now, we're very focused and excited about bringing iOS 5 and iCloud to our users this fall."

"We are extremely pleased with our performance which drove quarterly cash flow from operations of $11.1 billion, an increase of 131 percent year-over-year," said Peter Oppenheimer, Apple's CFO. "Looking ahead to the fourth fiscal quarter of 2011, we expect revenue of about $25 billion and we expect diluted earnings per share of about $5.50."
Apple 2011 Q3 revenue + earnings:
Record quarterly revenue of $28.57 billion
Record quarterly net profit of $7.31 billion
This is without the highly anticipated iPhone 5.
Earlier this month, Apple announced its industry leading App Store downloads top 15 billion. None of the other mobile devices have anything similar. Not RIM, not Palm WebOS, not Nokia, not Google Android, not Microsoft Windows Phone.
Apple Nokia Lawsuit Settlement Impact
In June, Apple and Nokia settled their two year patent dispute. Apple will pay Nokia a cash settlement for about 200 million Apple devices sold to date, and there will be cross license of some technology. However, Apple mentions the license will exclude "majority of the innovations that make the iPhone unique."
And of course, with the Nokia news, the cult of Apple haters continue to pray for Apple's doom as a result of lump sum cash settlement and royalty costs. But looking at today's Apple results, the Apple Nokia patent license deal appears to have no material impact on Apple financials.
As to Android trashcan worshippers, US Android phone ban might be coming later this year.
Later this year, Apple is expected to iPhone 5 and possibly an inexpensive unlocked iPhone 4 or 3GS to conquer even more territory in the mobile phone industry.

Related Posts