Apple Offers 31 nights of Live Music Festival: Watch NOW
Starting today, iTunes festival London 2011 offers 31 nights of live music from 62 artists, viewable on iOS, for free.
Watch iTunes Festival London 2011 Live, July 1 to 31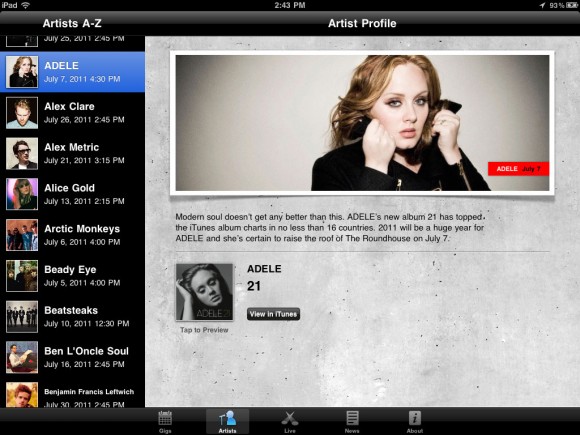 Artists of iTunes festival London 2011 including Adele, Bruno Mars, Moby, Coldplay, Foo Fighters, and Linkin Park. Live concert videos are available streaming and on-demand (limited time). Note: The description says "Watch the shows free on iTunes" but OP cannot find where.
First concert starts 3:00 PM Eastern time (15 minutes from now). Although the show happens in UK, the app shows the next concert in your local time. Smart.
Download the free universal iTunes Festival app [App Store] for iPhone, iPad, and iPod touch.
Update:
Works on 3G and Wifi!
Pro tip from ObamaPacman: to watch on iPhone audio only, without video on lock screen:
1. Open the video
2. Lock screen (stream will pause)
3. Click the (middle button) on your iPhone headset to play the video
(Note this also works for last used audio / video app, such as voice notes to record voice, camera for recording videos, or any app such as iPod)

Related Posts