Apple iPhone TV Signal Location Positioning GPS Patent
New iPhone 4GS / iPhone 5 might contain innovative chip that provides location services indoors and urban environments, where GPS signal is blocked.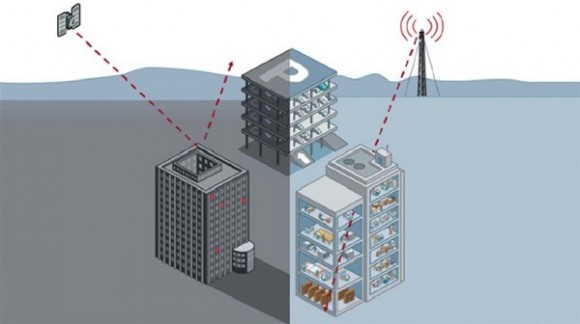 Last week, US Patent & Trademark Office (USPTO) published a new Apple patent, which describes "ability to assist those learning a foreign language" in addition to a new assisted GPS technology.
Patently Apple (via 9to5):
Apple briefly described the inclusion of a hybrid positioning system using a combination of satellite and television signals from a company called Rosum Corporation.
Description of Rosum on Bloomberg includes info on their new ALLOYT chip, which can provide indoor tracking along with mobile broadcast TV:
[ALLOYT] chip opens up a multitude of new commercial opportunities by enabling femtocell synchronization and location, tracking of people and assets, and localized advertising over mobile TV devices in deep indoor locations such as shopping malls, hotels, campuses and factories with seamless delivery leveraging broadcast TV signals.

The ALLOYT client combines the ALLOYT chip with a high-sensitivity A-GPS chip into a tightly-coupled hybrid TV-GPS solution which works across all types of environments: rural, suburban, urban, and indoor. Broadcast TV signals enjoy a 100,000x power margin advantage over GPS, and this extends location and synchronization capabilities deep into buildings and urban environments.
Basically, the system can provide your location when line-of-sight to global positioning satellites (GPS) are blocked. It is more precise then the current WiFi and cell tower based a-GPS. And similar to other location services, ObamaPacman believes it can be used for augmented reality or possibly location based advertising such as that of Minority Report.
In addition to using broadcast TV tower for location, it can also use local femtocell towers (small cellular base stations) to supplement the service. Neat. We can't wait to see Apple add this feature in a future iPhone.

Related Posts