Apple: Business Volume Purchasing of App Store + B2B Apps
Apple unveils volume purchase of iPhone, iPad, and iPod touch apps for the enterprise.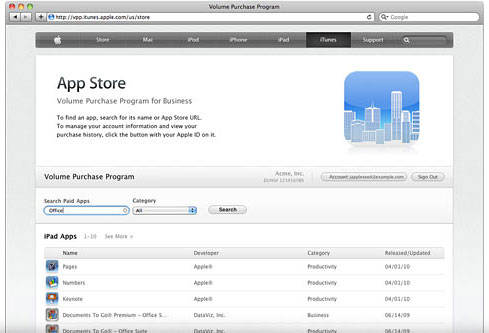 Apple App Store volume purchasing for business:
"Whether you're providing apps to two employees or ten thousand, the Volume Purchase Program makes it simple to find, buy, and distribute the apps your business needs."
Instead of calling Apple for volume licensing of iOS apps, enterprise with Dun & Bradstreet (D-U-N-S) number can now order them automatically on Apple web site.
Simply select the app(s), quantity, and download a spreadsheet of redemption codes. Purchase history and redemption status can also be seen on the Apple program site.
Apple is also offering purchase of business to business apps through the volume purchasing program. The B2B apps are not available to general public. Minimum price of $9.99 per custom B2B app.
Enterprise Volume Distribution of Apps
Apple describes multiple ways of volume distribution of apps:
Email the redemption URL directly to users
Post the redemption codes and URLs to an internal website, such as a company intranet page, or build an internal app catalog that provides a web-based portal for employees to install apps directly from their device
Use a third-party Mobile Device Management (MDM) solution to centrally manage codes
iPhone Enterprise Mobile Device Management Server
Apple iPhone, iPad, and iPod touch are compatible with MDM mass deployment servers that can securely enroll devices in an enterprise environment. Once enrolled in MDM server, devices can be managed on demand without further user interaction, wirelessly or by connecting iPhone to a computer via USB. Some of the features:
Simple Certificate Enrollment Protocol (SCEP)
Provisioning Profiles installed with expiry dates
Remote wipe, remote lock

Related Posts