App Store 4th of July iPhone iPad Games Sales
FPS Nova 2, racing game Need for Speed, and many games for iPhone, iPad, and iPod touch are on sale this fourth of July weekend.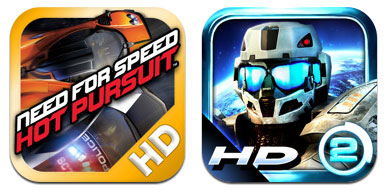 Tuaw has a list of games on sale, including the following. ObamaPacman found a few more here.
EA games [App Store] for iPhone and iPad are on sale for $0.99 each. Our favorites are:
OP found a game that's free right now. The app has a neat augmented reality feature where in one scene you smile for the camera to get the cat to smile:
6 of Gameloft [App Store] games are on sale (via toucharcade). Our favorite are Asphalt 6, NOVA 2, and Dungeon Hunter 2:
Zen Bound
Zen Bound 2 [App Store] and Zen Bound [App Store] are on sale for $0.99. Universal app.
X2 Snow Boarding Game
This is not a racing game, but rather tricks for points game. iPhone version image quality needs improvement, but iPad version image quality is much better. The game for you if you enjoy a snow boarding challenge.

Related Posts