The Warhol: D.I.Y. POP Art iPhone + iPad App [Review]
Make your own Warhol style silk screen pop art without getting dirty. OP reviews the official Andy Warhol Museum app.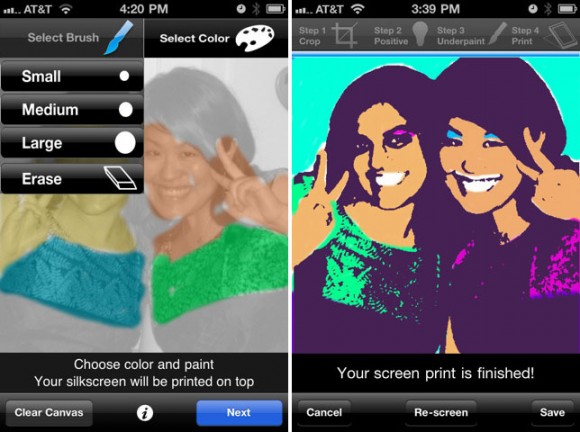 If your reaction to Andy Warhol's pop art is: my kid can paint that, now you can try to best it.
The Andy Warhol Museum just launched an app to create photographic silkscreen from your photos right with an iPad, iPhone, and iPod touch. The Warhol: D.I.Y. POP [App Store] is an universal app and has launch promo price of $0.99.
The Warhol museum might even display your masterpiece:
"Get your Warhol in the Warhol! Enter for your chance to have your creation hang in the Museum."
Just share your art from the app with the proper hashtags mentioned in the contest rules. The contest starts on July 11, with winners selected everyday to display in the museum for 15 days.
Video: The Warhol: D.I.Y. POP Art App Demo
Note, although video shows a tablet sized device, it actually shows the GUI from an iPhone or iPod touch, not iPad.
Review: The Warhol: D.I.Y. POP Art App
OP tested the Warhol DIY Pop Art app. It's actually an app that requires some drawing skills, not just some photography filters that automatically convert the images.
What's good:
Simulates making screen prints
Contains text, video, and photos of the real silk screen printing process. Plus curator's insight into Andy Warhol's works
No need to mess with darkroom, acrylic, or cleaning
What needs improvement:
Low resolution image canvas. Even high resolution photos from iPhone 4 become pixelated.
Unstable (expect it to crash)
No zoom, no undo
Eraser deselects current color selected (OP: current workaround is to paint with the color selected, use eraser once you are done with the color). As is, eraser should be separate tool with its own brush size memory.
"Select color" button does not follow iOS usability conventions (1 touch = set). Even on a computer you don't choose a color and choose "Use Selected Color". Should implement revert to previous color button instead.
Select screening color screen should have the color palette extended by default
Additional ideas:
Allow saving so the work can be refined later
Optional adjustment of darkroom portion, such as contrast adjustments, and erasing of unwanted parts
The Warhol DIY Pop Art iOS App [App Store] has a lot of potential. The idea is interesting, but its technical implementation is horrible. Its developer also needs to fix the performance problems and add basic features that are standard on other art apps. The chance to be displayed in the museum is a great idea though, so it might be worth the launch price of $1.
Reviewed: Version 1.0 released on Jul 11, 2011 on iPad 2, iOS 4.3.3, no jailbreak.
Update July 13: Andy Warhol Museum Responds
Joshua Jeffery, Manager of Digital Media and Web for The Andy Warhol Museum, and the designer and project manager behind The Warhol: DIY POP app wrote to OP:
"I just wanted to thank you so much for you constructive review.

This was our first foray into apps, and it's been quite the learning curve! As a non-profit and a Museum, this has been particularly challenging, as we aren't a software company. Your review is very well written and quite constructive, and we're very thankful for it!

We're working on an update as we speak which addresses all of your feedback.

Thanks again, and stay tuned for updates!"
Sounds great!

Related Posts