Adobe Caught with Pants Down, 5 Months After Lion Released to Developers
Adobe admits that many of its software, including Flash Player have problems under Mac OS X Lion. Bonus: Flash group WRONGLY BLAMES Apple for performance problem.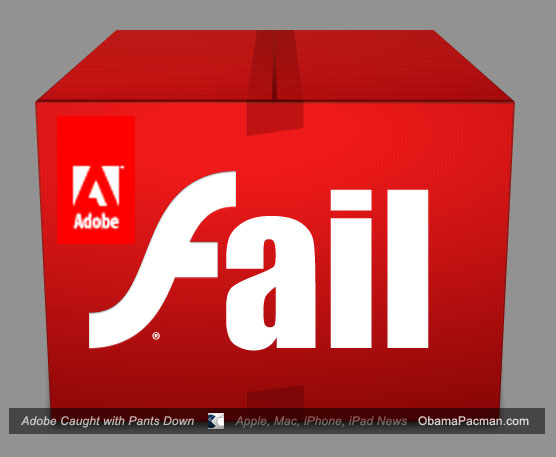 Yesterday, Apple released the next gen Mac OS X Lion.
What about Adobe? Instead of releasing software fixes, it released a document titled: "Known Issues with Adobe products on Mac OS 10.7 Lion". It admits that all these Adobe products exhibit problems: Acrobat family, Adobe Drive, Contribute, Dreamweaver, Fireworks, Flash Builder, Flash Catalyst, Flash Player, Illustrator, Lightroom, LiveCycle, Photoshop, and Premiere Pro.
What does it mean? If you depend on using those software, do not update to Lion yet. But is it Apple's fault?
Adobe Blaming Apple Lion for Flash Problem FAIL
One major problem under Lion is that Adobe Flash causes high CPU usage, heating up computers and draining battery life. But Adobe's original response is to blame Apple for disabling hardware acceleration of Flash Player:
Flash Player may cause higher CPU activity when playing a YouTube video. Possibly related to disabled hardware acceleration.
But it turned out, Apple did not change GPU acceleration to cripple Flash. Adobe adds today:
UPDATE: The final release of Mac OS X Lion (10.7) provides the same support for Flash hardware video acceleration as Mac OS X Snow Leopard (10.6). The previous "Known Issue" suggesting that video hardware acceleration was disabled in Lion was incorrect and based on tests with a pre-release version of Mac OS X Lion that related to only one particular Mac GPU configuration. We continue to work closely with Apple to provide Flash Player users with a high quality experience on Mac computers.
FAIL. ObamaPacman realizes that it actually means Adobe only tested Flash with 1 Mac, with 1 wrong developer OS version. Wow. Again, Adobe's original rant was: "based on tests with a pre-release version of Mac OS X Lion that related to only one particular Mac GPU configuration."
Adobe Laziness
So, how bad is the Adobe fail? Let's see:
February 24, 2011: Apple released OS X Lion developer preview
July 1, 2011: OS X Lion Gold Master released
July 20, 2011: public release of OS X Lion, identical to GM build
Adobe had 5 months (March, April, May, June, July) to test and update its software. But the software company didn't do that. Instead, at the end of five months, Adobe just sits there and whine. In addition, basing a premature conclusion on one test with one machine (one GPU) is a total fail.
No wonder Apple CEO Steve Jobs has a War on Flash ever since the release of iPhone in 2007. And no, we don't miss the poorly programmed and resource draining Flash from our iPhone, iPad, and iPod touch. Not at all.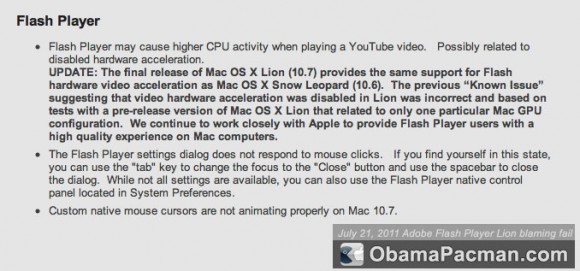 NOTE: In case Adobe changes the page, here's a frozen version from July 21, 2011. Just scroll down to Flash Player part (near the end): http://freze.it/flashfail

Related Posts