2011 Thunderbolt MacBook Air and Mac Mini Benchmarks
2011 MacBook Air beats 2010 MacBook Pro. The 2011 Mac Mini has similar performance gains too.
2011 MacBook Pro Performance Benchmark
Macrumors visualized the 2011 MacBook Air benchmark by ElectricPig.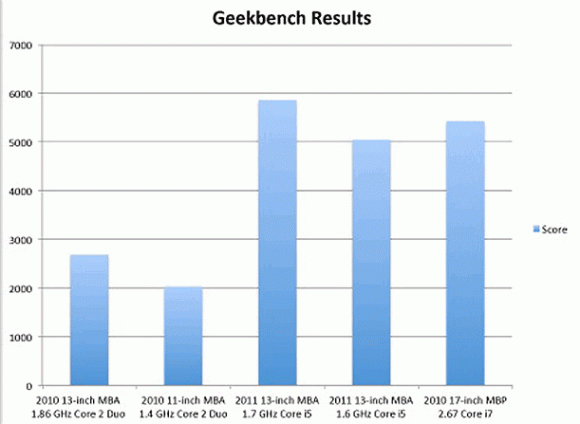 "The new 13-inch MacBook Air earned a Geekbench score of 5860, a bump in performance of over 100 percent compared to last year's model. The 11-inch MacBook Air was even more impressive, skyrocketing from 2024 to 5040 for 149 percent increase.

To put these benchmarks into perspective, the 2010 17-inch 2.67 GHz Core i7 MacBook Pro scored 5423. For £849 the 11-inch MacBook Air offers a benchmark on par with last year's £2099 17-inch MacBook Pro."
Impressive performance for the Apple ultra-portable laptop.
2011 Mac Mini Performance Benchmark
2011 Mac Mini benchmark by Macminicolo.net, this chart shows geekbench performance score for 2011, 2010, 2009, and 2005 Mac Mini: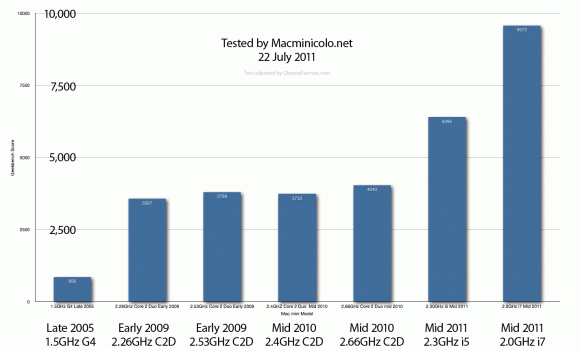 The high end Mac Mini is about as fast as 2011 MacBook Pro! And faster than some Mac Pro from recent years. Perfect as a server.
Benchmarks of the Thunderbolt MacBook Air and Mac Mini (2011 Sandy Bridge) made with Geekbench, which measures processor and memory performance. OP: These new Macs looks great! That's without considering the benefit of Thunderbolt.

Related Posts