WWDC 2011 "One More Thing": Apple iCloud iTunes Match
Besides the free iCloud, Steve Jobs introduces iTunes Match, an optional $24.99 per year storage and sync service for non-iTunes purchased music.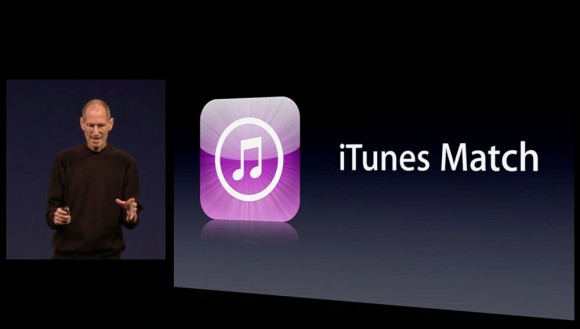 Options to put music on iOS devices:
Sync devices over wifi or cable. Only have to do it once.
Buy songs on iTunes.
iTunes Match service (read on below)
2011 WWDC: One More Thing
Steve Jobs introduces "iTunes Match" in his "One More Thing." It's an optional iCloud service that is coming this fall:
Get your music to cloud without need for uploading. Instead, iTunes will scan your library for music match.
18 million songs in iTunes catalog to music match. If song matches, it'll be available on iCloud.
Matched songs are gets free upgrade to 256Kbps iTunes Plus quality, DRM-free.
Upload what iTunes can't match.
Access to 10 devices.
iTunes Match Pricing
iCloud iTunes Match price is $24.99. Includes storage for up to 25,000 songs. iTunes purchases do not count against limit.
Works with iOS 5 on iPhone 3GS, iPhone 4, iPod touch (3rd and 4th generation), iPad, or iPad 2, or a Mac computer with OS X Lion or a PC with Windows Vista or Windows 7 (Outlook 2007 or 2010 recommended).
More info at Apple iCloud features page.

Related Posts