Wacom Released iPad Note Taking App: Bamboo Paper [video]
Neat note taking / sketching app for iPad by Wacom, maker of professional graphics tablets for artists. See short demo video.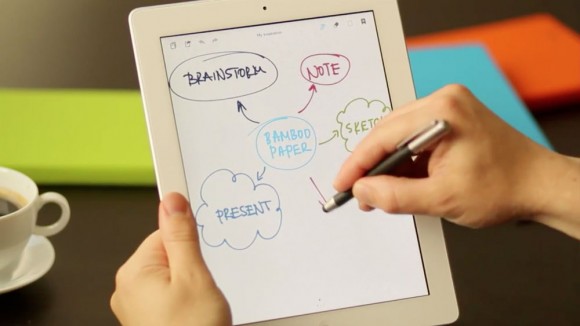 Video Demo: Wacom Bamboo Paper iPad App
Bamboo Paper – Wacom notes is a beautiful app that is easy to pick up.
Tools include: pen, eraser, undo, redo, share, select, copy, bookmark. Neat hidden feature: get to thumbnail view by clicking on the number. Use your finger to draw or sketch with virtual pens of 3 thickness and select colors. The lines are smoothed and beautiful. Currently the app has 3 paper types: blank, line, or grid. (No custom paper like Penultimate).
Not sure whether the video showed AirPlay or the new iOS 5 display mirroring. Or maybe they are using the Apple HDMI Adapter or VGA Adapter.
Writing small letters or drawing precisely with finger requires zooming in. Simply use the standard two finger pinch to zoom (ignore the line that might show up briefly). When zoomed in, use two fingers to scroll around the page.
What needs improvement? Physics of multi-touch zooming and scrolling while zoomed-in could be improved.
Price of the Wacom iPad Bamboo Paper App [App Store]? Free until June 30. $1.99 after.
Update 2012 March: not sure when this happened but they've changed to freemium model. The Bamboo Paper app is a free download and there is one paper pack available as optional in-app purchase for $1.99.
Wacom iPad / iPhone Stylus
Wacom also makes a stylus that works great: Bamboo Stylus for iPad [Amazon $29.99
]. Pro tip: if you want to use a stylus, wear some kind of glove so your hand don't accidentally input, or you can hover hand over the iPad like doing traditional calligraphy.
Here's how to zoom and scroll within the app:


Related Posts