Unauthorized Steve Jobs Profile / Documentary Tonight: CNBC Titans
Video preview of Steve Jobs documentary on tonight's season premier of "CNBC Titans".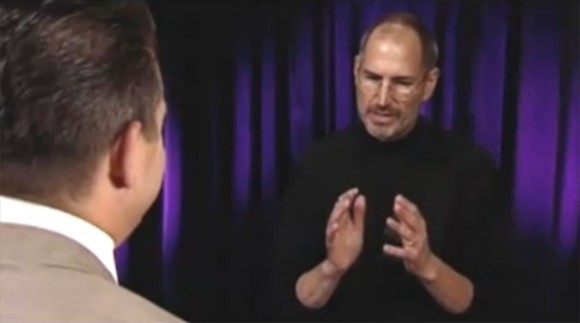 Airing eastern time 9 p.m. tonight, June 23, on cable channel CNBC.
Documentary of Apple CEO Steve Jobs, the man who introduced the world to Apple I, Apple II, Mac, iPod, iTunes, iPhone, and iPad. It's more than a history of Apple though. The hour long show is also expected cover Steve Jobs' charm, enthusiasm, and "ruthless" personality and Jobs' role in NeXT computers and animation powerhouse Pixar. Description:
Irrepressible and iconic, Steve Jobs has reigned as the undisputed king of Silicon Valley for the better part of three decades. From the Macintosh and the iPod, to iTunes and the iPhone, Jobs has secured his legacy as one of the few who dared to "Think Different."
Video: CNBC Steve Jobs Profile
Here's the trailer (in Flash), viewable on iOS with Skyfire [iPad | iPhone + iPod touch].
There are a few more "web extras" on CNBC:
Steve Jobs' charm (1:09)
First Macintosh, Steve Jobs backstage (2:09)
Genius of iPod: iTunes (0:17)
Some future episodes of the show about moguls, mavericks, and empires will cover: General Electric CEO, Jack Welch, Jazz musician Quincy Jones, and "Advertising's original Mad Man" Leo Burnett.

Related Posts