Top 10 Common iPhone Passcodes
Developer of Big Brother Camera Security for iPhone compiled anonymous common passcode that are entered into his app.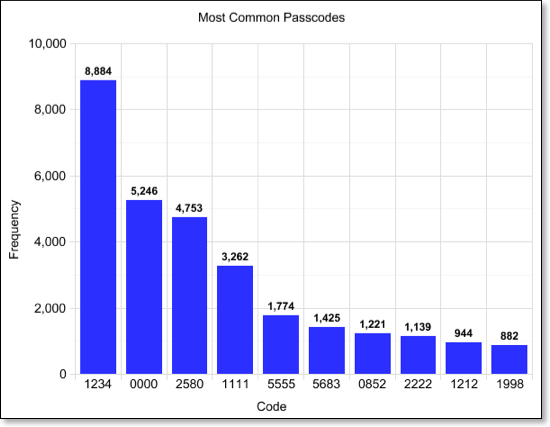 Big Brother Camera Security [App Store] mimics the iPhone and iPod touch passcode screen for security purposes. The app takes pictures whenever someone tries to access the device. If a person quits the app, the device will take photos and set off an alarm. The app can even email the photos with GPS location.
10 Common iPhone / iPod touch Passcodes
Daniel Amitay discovered the top 10 iPhone and iPod touch passcodes, which form 15% of 204,508 anonymous passcodes entered into his app:
1) 1234
2) 0000
3) 2580
4) 1111
5) 5555
6) 5683 (LOVE)
7) 0852
8) 2222
9) 1212
10) 1998
"The implication? A thief (or just a prankster) could safely try 10 different passcodes on your iPhone without initiating the data wipe. With a 15% success rate, about 1 in 7 iPhones would easily unlock–even more if the intruder knows the users' years of birth, relationship status, etc."
Well, if you got those passcodes (or these common geek passwords), time to change them.
Also, "any passcode between 1930 and 2020 has a much higher likelihood versus the average." Daniel also has a full analysis with password heatmap by digit at his site:

Related Posts