Tiny Umbrella for iOS 5 Beta 1 SHSH Released
New Tiny Umbrella version 5.00 adds iOS 5 b1 SHSH saving, fixed bug where SHSH can't be saved.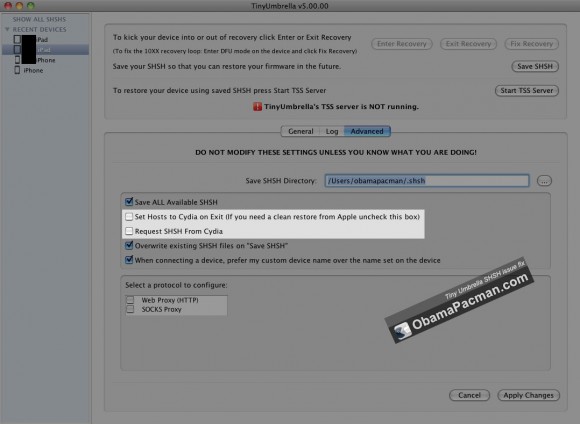 For existing supported iOS devices (iPhone 4, 3GS, iPad, iPad 2, iPod touch 4th and 3rd gen), if you like to restore to older version of iOS, you need to save SHSH. Tiny Umbrella is the tool for it. Download available for OS X and Windows.
Tiny Umbrella SHSH Saving Issue Fix
Tiny Umbrella 5.00 [1.6MB download] contains fix for SHSH saving issues:
"Request SHSH from Cydia" and "Set Hosts to Cydia on Exit" should be disabled by users as soon as possible especially if you are having issues saving your SHSH.
iOS 5 beta SHSH is fairly useless unless you are a developer or jailbreaker. However, after changing settings, the new firmware umbrella fixed the problem OP had with saving iOS 4.3.3 SHSH.
iPhone Software Unlockers: Beware
Preserve iPhone baseband (required to maintain software iPhone carrier unlock) with iOS 5 upgrade is possible but you won't be able to get out of recovery mode until Fix Recovery tool is upgraded.
"If you preserve your baseband with TinyUmbrella and go to 5.0b1, you will not be able to 'fixrecovery' until I am able to update it. Sorry – I just don't have time to fix it at this moment."

Related Posts