Time Capsule WiFi NAS Gets Stealth 2TB, 3TB upgrade
Apple's Time Capsule automatic Mac backup + Wi-Fi router got stealth upgrade this week.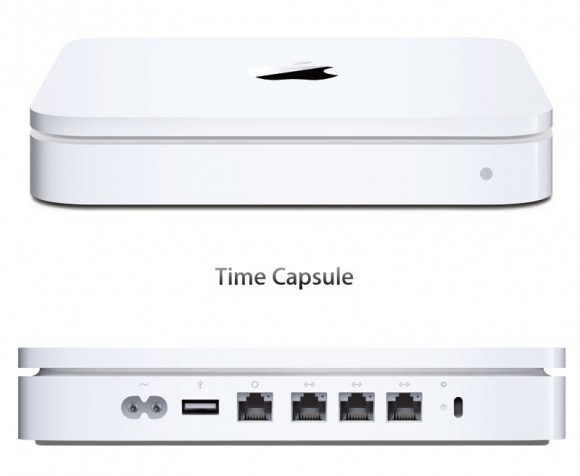 This week, Apple releases new Time Capsule. There seems to be no major changes to Time Capsule besides increase of capacity from 1TB and 2TB to 2TB and 3TB. Some features of the wifi router + NAS (Network-attached storage):
Simultaneous dual-band support. Use both 802.11n and 802.11g devices at maximum speed possible. (Normally the faster n wireless network slows down to accommodate a g device)
"Server-grade storage" (OP: Is this new?)
Time Machine automatic Mac backup
Price for the 2011 5th generation Time Capsule: $299.00 for 2TB (MD032LL/A), $499 for 3TB (MD033LL/A) at Apple Store. Made for Mac, iPhone, iPad, and iPod touch. WiFi works with PC also.
A slightly cheaper option would be to get an AirPort Extreme Base Station with your own harddrive (you can even connect a printer and external harddrive if you connect an USB hub to it). However, Apple is expected to update it soon so you might want to wait for the updated version.
New Apple Product Rumors
The possibility that new Apple WiFi products will add OS X Lion software update server remains a rumor. However, Apple could still release a software update that adds the feature upon release of OS X Lion.
Apple is mum on additional products awaiting updates, all are running low in inventory:
MacBook Air
Mac Pro
AirPort Extreme (WiFi Base Station)
MacBook Pro and iMac were recently updated to Thunderbolt earlier this year. With the impending OS X Lion 10.7 release, it's highly likely that Apple is waiting for the new Mac OS to launch the new products.

Related Posts