Steve Jobs' Cupertino Apple Campus Mothership Building Proposal (with Apricot Orchards!)
Apple CEO Steve Jobs proposed a spaceship like new campus design with apricot orchards to Cupertino City Council, one day after 2011 WWDC.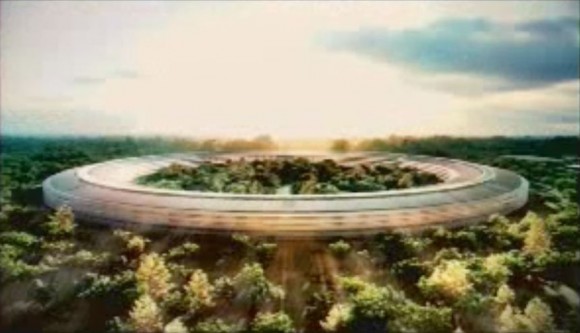 Video: Apple Cupertino Mothership New Campus Proposal
Video released by Cupertino City:
"Apple Inc. CEO Steve Jobs presents his proposal for a new Apple Campus to the Cupertino City Council. This presentation was recorded Tuesday, June 7, 2011 at the Cupertino Community Hall."
Steve Jobs on the plan:
"We've come up with a design that puts 12,000 people in one building."
Mr. Jobs talks about how Apple is always in Cupertino. Apple currently has 12,000 people in the area, but the current main Apple campus at 1 Infinite Loop Drive can hold only hold 2,600 to 2,800 people. The growing tech company has to rent spaces, so it's time to build a new campus to augment the Cupertino headquarters.
Apple Mothership in Cupertino
The Apple CEO says architects working with Apple has come up with something better than office parks, on the site of the old HP Cupertino campus, which Apple bought recently.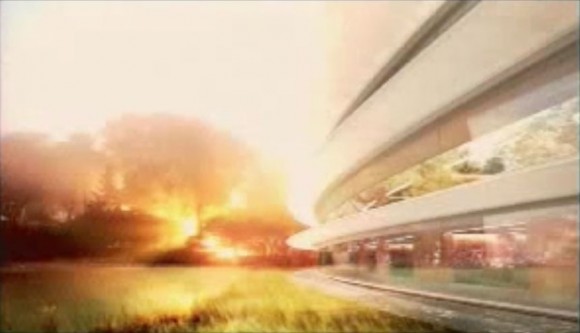 "It's a little bit like spaceship landed… It's a circle, curved all the way around… not the cheapest way to build." -SJ
It'll have curved glass all around, similar to Apple Store Pudong at Shanghai China.
Gives the "I've visited the Mothership" Apple t-shirt a brand new meaning. (From the Apple Company Store).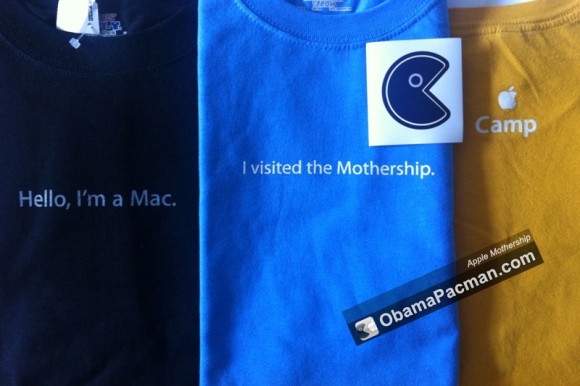 Why is the Apple new headquarter plans better than the existing buildings?
Today, 20% of space is landscaping, most of the space is big asphalt parking lot. Apple wants to make it 80% landscape by putting most of the parking underground. (OP note: 1 Infinite loop already has some underground parking).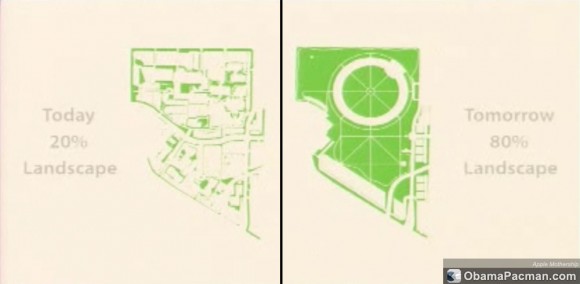 There are 3,700 trees today, Apple hopes to have 6,000 trees. Apple even hired experts from Stanford on indigenous trees.
Building will be four-story high with four-story parking structure. Steve Jobs:
"It's actually the same [height] as what we have in Cupertino [Apple headquarters] right now."
Apple campus will have its own "energy center" that uses natural gas to generate power "cleaner and cheaper", and use the grid as backup. No sending employees home due to brown out.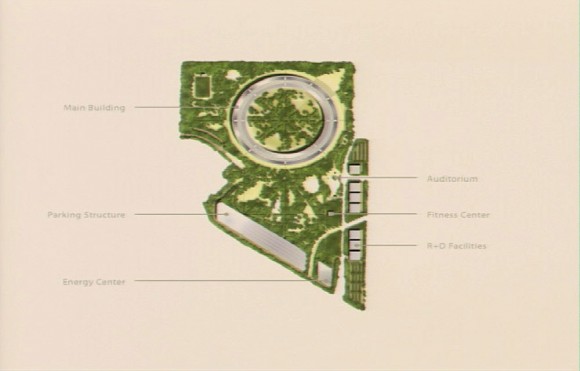 There will also be auditorium, fitness center, R&D facility (for testing), and "cafe" with room for 3,000 at the Cupertino Apple spaceship campus designed for 13,000 employees.
Apple Campus Cupertino Mothership Proposal Q&A
Cupertino City Council on the design, in a good way:
"The mothership has landed in Cupertino."
City council wonders how can citizens benefit? Does the city get a free wifi?
"I'm a simpleton. I always have this view that if we pay taxes, and the city should do those things. Now if we can get out of paying taxes, we'll be glad to put up wifi." – Steve Jobs
Former HP employee and Cupertino council member, despite the memories of the former HP campus, on the Apple campus plan:
"The word speculator would be an understatement."
On safety concerns:
"The whole building has to be designed with pretty precise requirements for safety, but we'll even go beyond those." – Steve Jobs
What about possible Apple Store at Cupertino? Steve Jobs: "There isn't the traffic." OP note: there is sort of an Apple Store: Apple company store at 1 Infinite Loop. There are limited demo stations and the hours are currently limited Monday – Friday 10:00 a.m. to 5:30 p.m.
So it seems that the city council is ready to fast track Apple's ambitious new Cupertino campus mothership. Apple's estimate time? Submitting plans soon, groundbreaking next year, 2015 move in. We can't wait.

Related Posts