Sonic & SEGA All-Stars Racing for iPhone + iPad
Newly released retro Mario cart style racing game, featuring Sonic Hedgehog and other Sega characters.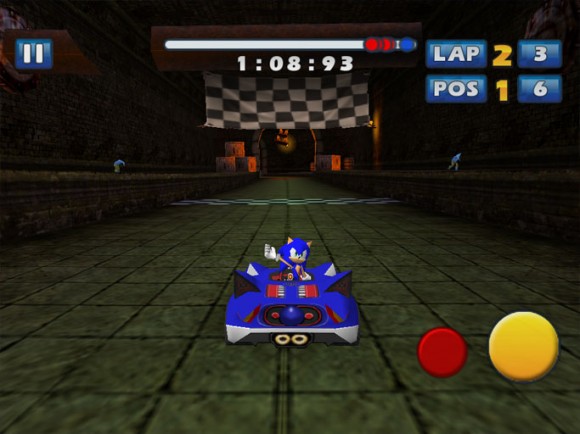 Trailer: Sonic & SEGA All-Stars Racing iPhone / iPad
Sonic & SEGA All-Stars Racing, $1.99 today ($4.99 full price) [App Store]. Universal App optimized for iPad, iPhone, and iPod touch. Features:
Single player or multiplayer with 3 other players
15 courses, some with road hazards such as zombies
Various power ups, from speed boosts to missiles
10 vehicles with unique handling characteristics
Career mode starts out chicken easy only. Tracks start out very short and easy to memorize but gets longer and more exciting after the 6th track. Drifting is easy (compared to some of the more recent titles). Drifting gets you a speed boost at end of drift.
If you love arcade cart racing games, check it out.
Sonic & SEGA All-Stars Racing vs. Shrek Kart
The game closest to this new (but old) Sonic & SEGA All-Stars Racing game [App Store] is Shrek Kart [iPhone + iPad]. OP likes the SEGA game much better. The problem with Shrek Kart is that it's always twisting and turning, so it doesn't show enough of the track. Unless you have super fast reaction time or memorized the Shrek Kart tracks, forget it.

Related Posts