RIM Amateur Hour FAIL: 500,000 BlackBerry PlayBook Shipped, Announces Layoffs
Bad news from RIM 2012 Q1 earnings report: shrinking BlackBerry phone sales, low shipment of 500,000 PlayBook tablets, product delays, and employee layoffs.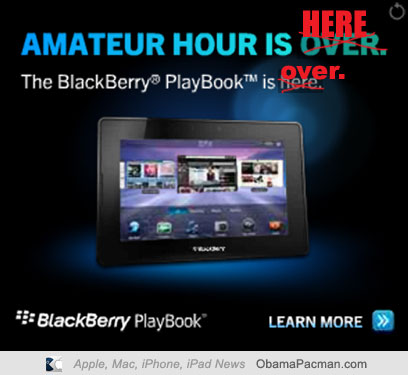 In April, Research in Motion (RIM) introduces its iPad wannabe BlackBerry Playbook 7″ tablet with slogan: "Amateur Hour is Over."
Playbook turned out to be crummy product, receiving 'do not buy' reviews from most publications due to unfinished nature and lack of software. Even Playbook Android support vaporware or Flash support doesn't help.
Yesterday, the BlackBerry maker announced:
"Fiscal 2012 has gotten off to a challenging start. The slowdown we saw in the first quarter is continuing into Q2, and delays in new product introductions into the very late part of August is leading to a lower than expected outlook in the second quarter." said Jim Balsillie, Co-CEO at Research In Motion.
RIM BlackBerry Playbook vs. Apple iPad
The BlackBerry maker also announced that it "shipped" (not sold) a total 500,000 Playbook tablets in about 2 months. In contrast, Apple sold more than 500,000 original iPad in 1 week, and likely to have sold more than 500,000 iPad 2 on launch day or launch weekend.
Research in Motion Stock
Stock repurchase program typically results in increase in stock price. But despite the announcement of Stock repurchase program yesterday, Research in Motion stock (RIMM) suffered 14% drop in aftermarket trading after the announcement. Stock price compared to when it launched the PlayBook:
$53.22, BlackBerry Playbook launch, April 19, 2011
$30.26, RIM announces layoffs, June 16, 2011 after market price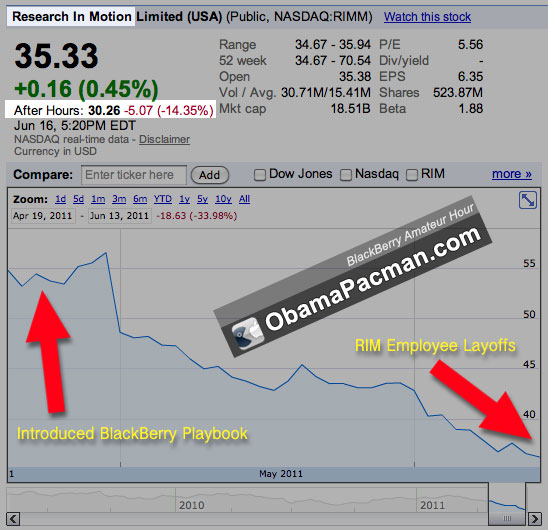 Value of Research in Motion dropped even more today, at its low exceeding over 20% drop in 24 hours.
Over 20% drop in valuation over 24 hours? Perhaps RIM should change its slogan to:
"Amateur Hour is HERE.
The BlackBerry PlayBook is OVER."
via df
Dear Research in Motion, please feel free to use the new slogan, courtesy of ObamaPacman. There is no charge for it.

Related Posts