Red Letter Media Releases Mr. Plinkett iPhone App Zone
Our favorite movie reviewer Mr. Plinkett, known for his EPIC 70 minute Star Wars reviews, released an iPhone app!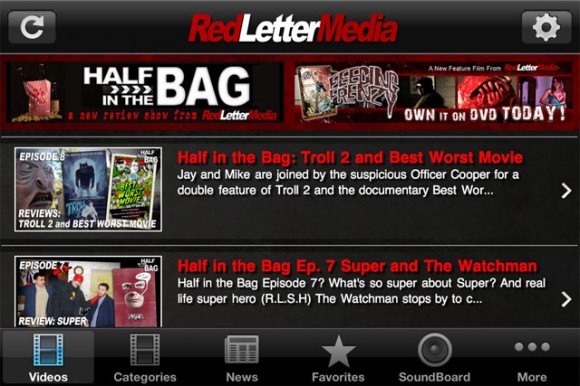 "Mr. Harry S. Plinkett now invites you to enter his App Zone."
Watch the epic 70 minute Star Wars movie reviews, email a pizza roll, and visit his web zone on the Red Letter Media's Mr. Plinkett App Zone [App Store, $0.99]. It's iPhone and iPod touch optimized but the videos works fine on iPad in x2 mode. 5% iPad 2 battery life use after 30 minute video.
Videos longer than 10 minutes (most videos) require Wi-Fi to watch, but you can add it to favorites to view later. Perhaps 3G streaming capable videos should be marked as such.
Features:
Epic Plinkett video reviews of Star Wars prequels, Star Trek, Avatar (vs. James Cameron's Titanic), and other movies. Plus review outtake(s)
Half in the Bag: movie review by the real Mike Stoklasa (instead of the Mr. Plinkett creator)
Videos are available in longer portions, 30 minutes instead of 10 minute clips (fewer pieces, yay)
Has AirPlay
The most foul mouthed app at the App Store that ObamaPacman has seen
Content unique to iPhone: short welcome video
Email a Pizza Roll to your Friends from the app
"Feature Films" section shows trailers and short clips
Latest news to Red Letter Media web zone (website) within the the app
There's also a soundboard with wacky and foul mouthed Plinkett classics and many sound bytes with F bombs, plus maybe something about pizza roll on some web zone.:
"My cat ain't gonna milk itself"
"OMG, what's wrong with your face?" (Almost as memorable as OMG, double rainbow all the way).
What needs improvement:
Fugly design and navigation
Website integration is horrible. For example: to comment you have to click a button to go to the website, then click another button for the comment form
An universal app with iPad optimized interface would be great
Some icons are squished Fixed with June 12 v1.1 update.
Mr. Plinkett Movie Reviews
Mr. Plinkett's humorous movie reviews are made with clever logic, great pacing, and an insane movie reviewer character (the movie is so bad, even an insane person can see it).
They are a must watch for film connoisseurs and aspiring film makers / reviewers. Although some videos are almost feature film in length, there is never a dull moment. The videos are even better than the Star Wars prequel!
Here's an example. Plenty of f bombs though so might be NSFW if you use speakers.
Star Wars, The Phantom Menace Plinkett Review
Example of Plinkett review. In 7 parts, about 10 minutes each (in the app it's in parts 30 minutes):
Like it? Get the [App Store, $0.99] for iPhone and iPod touch (and works relatively well on iPad), with AirPlay.
Screenshots of videos made on iPad x2 mode.

Related Posts