Portal 2 Gun + "Outside Aperture" Fan Film, Made by Mac Creative
Mac creative makes Portal 2 gun and produces great Portal inspired fan film. Cake may no longer be a lie.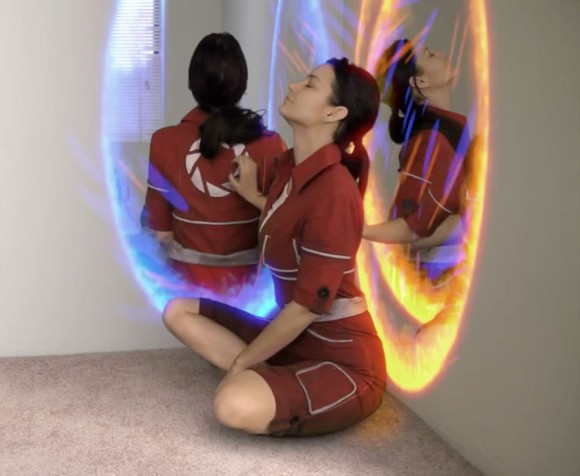 Video: Outside Aperture Portal 2 Fan Film
"No Aperture Science Weighted Companion Cubes were hurt in the making of this film."
Produced by Eisen Feuer with help by "an unincorporated group of assorted people with no money and lots of passion." Why did they make the Portal 2 ($29.99 on Amazon
) inspired short film?
"It was all made possible because VALVE SOFTWARE makes the best games in the history of the universe."
Film Maker Tools: Mac Software + Hardware
FAQ from Eisen Feuer on his latest mix of software tools (on a Mac) as of May 12, 2011:
"I used Final Cut Pro for editing, Motion for motion graphics, Shake for all effects compositing and Color for color grading. We use Logic to compose our soundtracks. For painting I use Photoshop, Sketchbook Pro (non-Pro version is free) and Shake. I edit photos in Photoshop and Shake. I also use Sketchup (free) for metal projects and designing film equipment that we make ourselves."
On hardware:
"I use my Mac Pro Octo (Early 2009, Nahelem) running OS X. I also have a Shuttle Xpress shuttle/jog control for editing, an Intuos3 6×4 (the smallest) Wacom tablet for painting and rotoscoping. For music I have Logitech 5300e speakers, an Alesis iMultiMix 8 for bringing in audio, and an M-Audio Axiom 49. I capture from non-file-based video sources with a BlackMagic Intensity Pro."
[YouTube video and Eisen Feuer via geekologie]

Related Posts