Measurement: Proposed Cupertino Apple Campus Mothership Size & Analysis
Size estimate of proposed Apple campus mothership Cupertino headquarters building, expected to build on the site of former HP campus.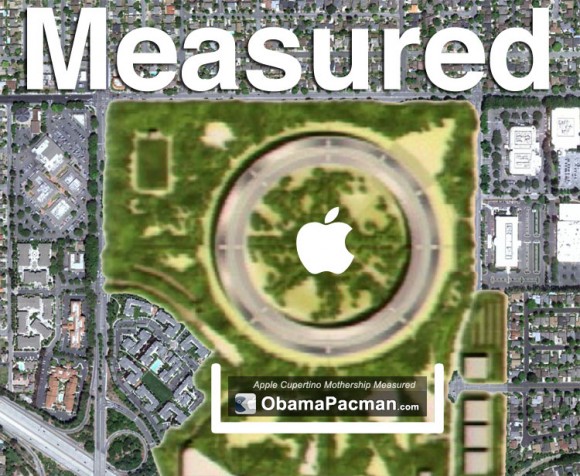 After Steve Jobs introduced the Apple Cupertino campus building proposal and green light of Apple development from Cupertino, some people questioned its size. To hold 13,000 employees, the building surely must be huge and difficult to travel from one end to another?
Some guesses:
"How you get from one office to another? It might take 20 minutes to walk to the other side of that building. I wonder if some type of internal monorail substitutes for elevators."
Someone else:
"You'll have to go outside the building and take a shuttle bus 3 or 4 stops, hop out, go back in," or go through the court yard. "No matter which way you take you've just burned 20 minutes of productivity to get to a meeting IN YOUR OWN BUILDING."
Here's why they are pretty far off.
Apple Proposed Cupertino Campus Building Measurement
In the course of making the Apple Cupertino campus vs. Pentagon illustration, Apple blog ObamaPacman realizes:
1. We have Steve Jobs' Cupertino Campus proposal slides
2. We have satellite map of the area, with scale
3. Overlay Cupertino mothership proposal onto map
4. Measure
Dimensions of Proposed Cupertino Apple Campus Mothership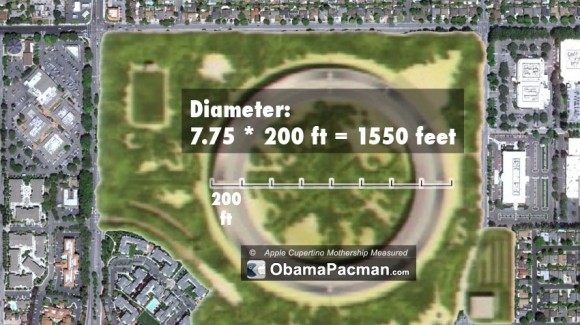 Approximate new Apple headquarters dimensions:
Roof width: 200 feet (61 meters)
Diameter: 7.75 * 200ft = 1550 feet (470 meters or 0.3 mile)
Circumference: 4870 feet (1490 meters or 0.92 mile)
Margin of error: <5% due to the posted Steve Jobs presentation image being low resolution and slightly distorted. The illustrations are made at higher resolution and resized down for site.
What does it mean? Apple Campus FAQ
So we have an estimate of the Apple Cupertino campus mothership size. What does it mean?
Travel time: The farthest points to travel within the Apple campus mothership is less than 0.5 miles apart, even when taking the longest way on the outside edge of the buildings. That means maximum of under 10 minutes slow walk to travel within the building. If you cut across the courtyard (with nice California weather + orchards covered pathways, of course), then it'll take less time.
Distance to additional parking: Shortest distance to additional parking is 1000 feet (300 meters). Longest distance about 0.5 mile (800 meters), 10 minutes slow walk.
Exterior shuttle buses around the loop is unlikely. You would be there already by walking. The interior corridor might have room for interior transport, probably electric car or Apple iCar.
Courtyard size: Interior "walled garden" / courtyard has room* for about 3 football fields end to end and almost 6 football fields side by side. There is room for 3 soccer fields side by side.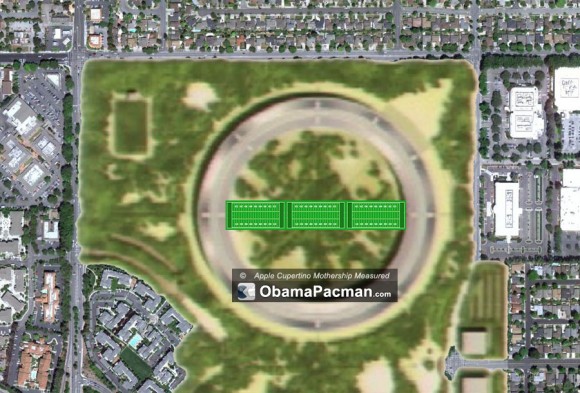 Why is the additional parking structure so "far" away from the main building?
There is interstate highway 280 to the south of the former HP property. The parking lot should block the highway noise.
Traffic issues?
It appears that the new Apple campus is right next to the highway. There is also residential district within walking and bicycling distance, and property value is surely to rise.
Would the Cupertino mothership building become the new Apple headquarters?
Probably, due to new testing facilities being build on site. And lack of personal parking spot around the current Apple headquarters at 1 Infinite Loop, Cupertino.
Got questions? Comment below. Illustration by ObamaPacman.com
* Fields contain out of bound areas in addition to these measurements: American football field (360 x 160 feet), Soccer field (FIFA regulations up to 360 x 240 feet, or 120 by 80 yard Olympic field).

Related Posts