Marine Corps + Navy Pilots Use iPad in Combat Missions
Pilots of Marine close-air support aircrafts in Afghanistan use Apple iPad as Electronic Flight bag. In addition, Navy also uses iPad on missions launched from aircraft carrier.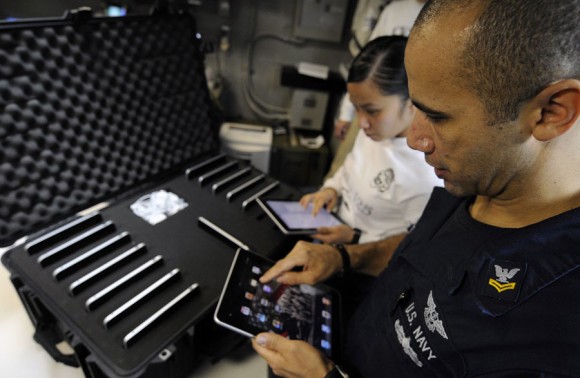 Marine iPad Gridded Reference Graphics EFB
DVIDS reports how Marine pilots replaces paper maps with Apple iPad to save time and space:
"iPads allow close-air support aircrew several advantages," said Maj. Marc Blankenbicker, the lead fire control officer for the Marine Aerial Refueler Transport Squadron Harvest Hawk detachment at Camp Dwyer, Afghanistan. "First is the ability to carry 500 large charts, known as gridded reference graphics, on one electronic tablet."

Currently, a handful of 2nd Marine Aircraft Wing (Forward) squadrons use Apple's iPad in Afghanistan. This includes crewmembers for AH-1W [Super Cobra] and UH-1Y light attack helicopter squadrons, AV-8B Harrier pilots and the crew of the Harvest Hawk equipped KC-130J.
Marine iPad use was originally started by a pilot on his own initiative, it's now officially authorized:
"The use of the iPad by Marine aviators is now sanctioned by the Marine Corps," said Lt. Col. Matthew Mowery, the commanding officer of HMLA-267. "Naval Air Systems Command was very skeptical initially but now they have looked at the program and authorized us to do it."
Flexibility, constant update, and ease of use? Seems to be a win win situation.
Navy Aircraft Carrier iPad Use
Navy also uses iPad, Macrumors reports that above photo (U.S. Navy photo by Mass Communication Specialist 3rd Class Christopher K. Hwang / Released) shows:
U.S. Navy Information Systems Technician 2nd Class Michael Tolbert uploading "geographical data onto tactical Apple iPad tablets to be used for combat operations aboard the aircraft carrier USS Carl Vinson at sea April 19, 2011."
In the photo, Apple iPad is protected during transport with Pelican 1630 Case [$298 on Amazon
].
Earlier this year, FAA approved iPad as electronic flight bag for commercial flights.

Related Posts