Mac OS X Lion: Features, Price, Release Date
Price, availability, and features of the new Mac App Store OS X Lion. (No more paper box or DVD.)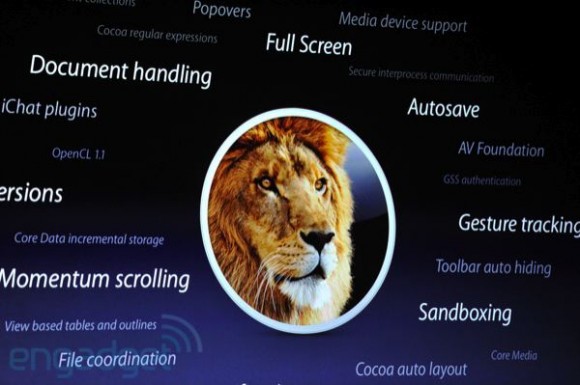 OS X Lion has over 250 new features. Some features demoed at 2011 WWDC:
Multi-touch gestures
Full screen applications
Mission Control: shows all apps and documents you are working on.
New Photo Booth with face detection
Mac App Store: "The Mac App Store is now the #1 channel for buying PC software. It's ahead of Best Buy, Walmart, and Office Depot."
Launchpad: use pinch gesture to see Apps in a grid, like iOS.
Resume: Mac apps save states, just like iOS Apps. "Windows, selections, tools, even highlighted text are just the way you left them."
Auto Save / document control: auto saves versions, just like Time Machine.
AirDrop: peer to peer sharing. Drop file onto auto-discovered user and they can accept it easily.
Sandbox: for better security
Mail: "With searching now we have new search suggestions. Mail recognizes whether that's a person or a subject… select one it becomes a search token." Threaded email can hide (or show) redundant FWD and RE that clutters up emails.
It'll also include Windows Migration assistant, FileVault 2, FaceTime, and more. Awesome.
New Mac OS X Lion is 4GB, only available on Mac App Store. Buy once, install on all Macs. $29.99. Developer preview now. Available to everyone in July.
More at Apple Mac OS X page.

Related Posts