iPhone Security Camera
How do you deal with prankster who ring a doorbell then runs away? iPhone 4 camera to the rescue.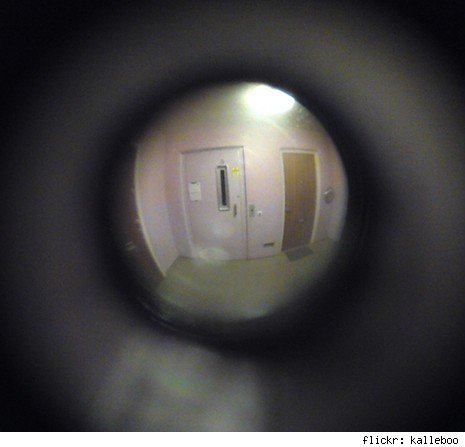 iPhone Security Cam
Tuaw reports iOS developer James in UK had a prankster problem, which he solved with his iPhone. He rigged his iPhone 4 as a front door peephole surveillance camera to catch the culprit. James is not a morning person because he works late at night, and here's the problem:
"For the past week, every single morning between 8 AM and 9 AM, someone has been ringing the doorbell to our flat several times and running away."
He has tried jumping out of bed and rushing to the door. No success besides hearing sounds of footsteps. Waiting by the door and watch through the peephole is a failure too:
"Not only is craning my head to watch the peephole for an hour uncomfortable, it also prevented me from being able to carry on my usual morning routine of massive coffee consumption."
But he had an idea to turn the iPhone into a peephole security camera monitor:
"I noticed the camera on my iPhone 4 was the same size as the peephole. With a bit of fiddling and adjusting the zoom I was able to stick my phone to the door using blue tac, thus providing a convenient window to the outside world and the ability to capture a pic of the culprit to use as evidence."
He can't find a way to stream live video so he stood by the door with his girlfriend to chill out with coffee. When the person rang the doorbell, James hit the camera button then opened the door and surprised the culprit, who is a kid next door. Happy ending.
App to Stream iPhone Security Video
Airbeam [App Store $3.99] would work in this case, as it can streams video through wifi to another iOS device. It also has recording and Multi Camera, Multi Monitor features. Universal app with iPad, iPhone, iPod touch support. Mac viewer said to be coming soon.
A free way is to just record a video. 60 second video of 720P HD video from iPhone 4 takes about 80MB of space, so an hour of video would require under 5GB of space to record.
If you don't have the space even on the 32GB iPhone, another free way is to use iPhone for streaming video to yourself. Just setup a separate FaceTime account on one of your other devices (Mac [App Store $0.99] or iOS) and call yourself. The limitation is that you have to answer the call on the camera device first, and you have to record your screen or take screenshot very quickly. But you could still show the evidence and say: Boom, headshot with FaceTime.
[tuaw]

Related Posts