iPhone 3GS vs iPhone 4: iOS 5 Speedtest
Is the 2 year old iPhone 3GS obsolete compared to iPhone 4? Speed comparison of both Apple smartphones running iOS 5 developer beta.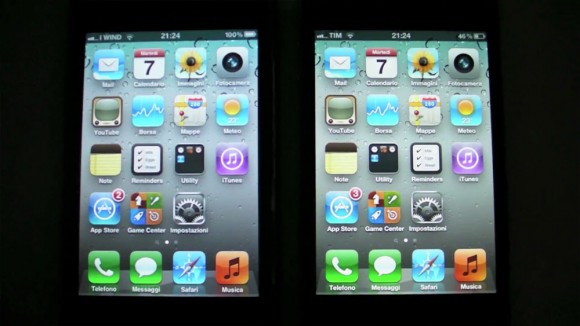 Video: iPhone 3GS vs iPhone 4, iOS 5 Speedtest
iPhone 3GS on the left and iPhone 4 on the right in this iOS 5 beta 1 speed test.
First test shows iPhone 3GS is "faster" to receive text message notification. However, the phones are on different carriers and thus likely due to network delivery time.
System Preferences: almost same speed
Photos app: 3GS doesn't have photo editing
Music app launch: slightly faster on iPhone 4
Reboot: almost identical
Note: the phones are both 16GB but they are not loaded with the same content. The iPhone 4 has more apps installed. The iPhone 4 has 45% charge, while the 3GS is fully charged.
Browser test is similar to OP's 2010 iPhone 4 vs. iPhone 3GS speedtest, where iPhone 4 wins.
Anyway, it shows that even the two year old iPhone 3GS can handle the next generation iOS 5, even at beta stage (when the OS is loaded with debug tools). Impressive.
PS: Video shows new stock ticker and weather widgets in action around 5:35.
[applerumors.it on youtube]

Related Posts