iPad + Penultimate For Storyboarding
Filmmaker shares his iPad storyboard workflow and why the Apple tablet could be a digital Moleskine notebook.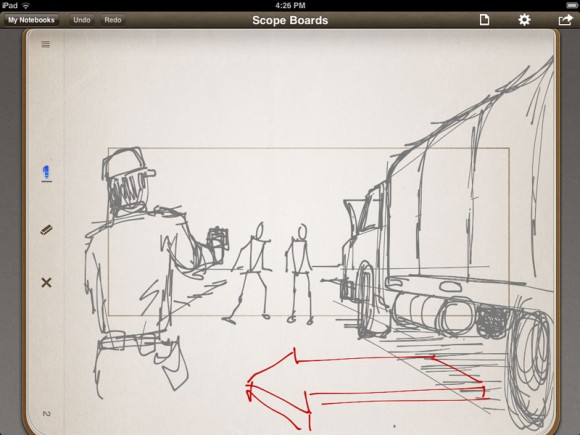 Stu Maschwitz on his favorite storyboarding iPad tool, Penultimate [App Store]:
Why is Penultimate, a simple, general-purpose notebook app, the best iPad storyboarding tool? Turns out there's a critical mass of features that add up to awesome:

Custom templates (papers)
Delete, re-order, and duplicate pages in a lovely thumbnail view
The best "feel" of any iPad drawing app (especially with a stylus, see below)
Just the right number of ink colors (almost, see below)
Easy PDF export of all or just some of your pages
iPad stylus suggestions:
Stu is sharing some of his Penultimate templates for storyboarding and additional ideas for workflow at his blog: [prolost via df]
Check out Stu's old demo reel:
App Feature Requests
Cocoa Box, creator of Penultimate responded to the article and wrote about "How To Get What You Want" when it comes to features requests:
When you give developers feedback, be sure to include how you use the app and what you're trying to accomplish. Explain the "why", as well as the "what". Tell me about your workflow, and where the app falls down in that workflow. You may find you get both a better response from developers, as well as a greater likelihood of having your actual problem solved.

Related Posts