iPad + Parrot.AR Drone / Quad Helicopter Inspects Earthquake Damage
iPad / iPhone controlled Parrot AR.Drone Quadricopter inspects New Zealand church damaged by earthquake.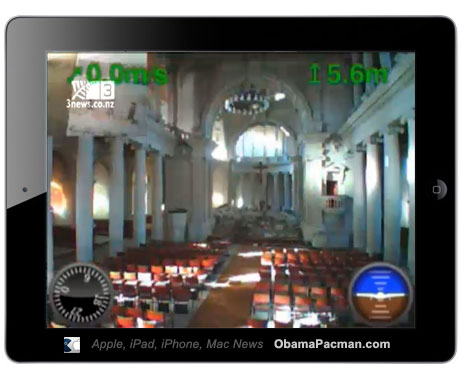 Video: iPad Controlled Drone Examines Damaged Church
Last week, a large earthquake struck the New Zealand city of Christchurch. Roman Catholic Cathedral of the Blessed Sacrament was badly damaged. To examine the damage, engineers from Opus inspected the church remotely by flying an iPad controlled Parrot AR Drone. 3news.co.nz reports:
It's a type of toy called a 'quadricopter' and was bought from Dick Smith. Controlled by an iPad, it can fly and film. Opus engineers have put a polystyrene reinforcing around it. The drone recently crept its way inside the cathedral for a test flight. The whole area's too dangerous for engineers to get close.

"Even if we lost it in the building 'cause we're never quite sure with the wi-fi range or the battery life, but if it turned out to be a suicide mission it's a $500 [New Zealand Dollars] one not a far more serious one," says Opus engineer Nicholas Dawe.
Parrot AR.Drone ($299 USD)
was controlled through integrated live video streaming.
Its universal app for iPhone and iPad is a free download [App Store]. Requires Wi-Fi network. It is typically used as part of an augmented reality game called AR Pursuit, but interesting that the engineers found a great use for it.

Related Posts