iPad App Takes Videos Offline for Roadshow
Download internet videos on iPad to watch offline, for the times you are without internet connection.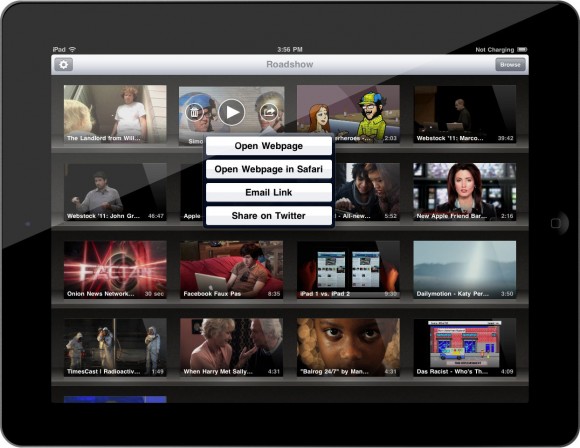 Spend time without internet connection, such as commuting underground or in airplane, but want to watch internet videos on iPad? Get Roadshow for iPad [App Store].
Free version saves 15 videos and is ad supported
Can be upgraded in app to to unlimited videos and no ads
High speed scrubbing! (Most internet videos have a delay for scrubbing)
High quality Vimeo videos
Download progress bar
Saves even embedded videos (if you can see them on iPad)
YouTube not supported
AWESOME FEATURE:
If you copied a URL (say from another browser or from email), and go back to RoadShow, it'll ask whether you want to open the copied the address from domain name.
Downloaded video contains link to page, so you can go back to make a comment when you are online again.
iPad Roadshow Compatible Sites
Some sites that currently work with Roadshow for iPad:
Here's some embedded vimeo videos to test it out:
Ian Albinson's SXSW presentation video of great movie titles, "A Brief History of Title Design":

Mountain climbing "Reel Rock 2010 Trailer":

Conclusion? The app is extremely polished and quite impressive, especially at v1.0. Great work by Fetch Softworks! They also make Mac FTP client Fetch [App Store].
Will this app be removed? Many time shifting apps originally have problem with content creators, some get sorted out, some don't. So download now to make sure you have it.
[Fetch Softworks via df]

Related Posts