iPad 2 iOS 5 AirPlay Mirroring Demo + Latency Measured
Is the iOS 5 AirPlay wireless display mirroring fast enough for gaming? OP measures the iPad 2 to Apple TV latency.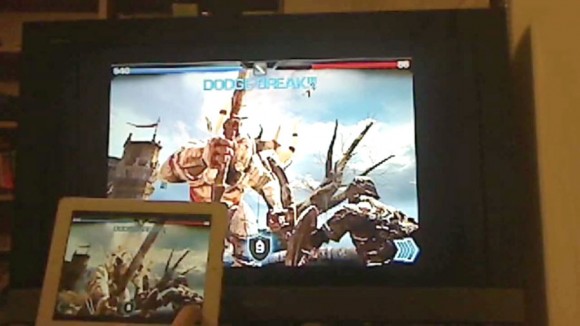 Video: iOS 5 AirPlay Display Mirroring
Here's a video from youtube user wentsungtsai showing the wireless iOS 5 AirPlay display mirroring. Devices: white iPad 2 with iOS 5 Developer Preview beta 1, and Apple TV.
ObamaPacman measured the latency between the iPad and TV display. When something happened on iPad, OP counted the number of frames it takes for the TV to display the same scene. The rough benchmark of latency is as follows:
iOS desktop: 7 frames
Safari: 6 to 7 frames
Sling Player: 10 frames
Angry Birds: 7 to 9 frames
Infinity Blade (at 2:30): 7 frames
Do the math with video at 30 frames per second, each frame is about 33.3 milliseconds.
Result? AirPlay video mirroring latency is currently around 200 to 333 milliseconds with iOS 5 developer beta 1. The video uploader claims "50~100ms" latency. OP is not sure where that came from.
Analysis
What does the fraction second delay mean for AirPlay streaming?
It's fine for presentations and web browsing
It's fine for video streaming, as long as you are not watching it on the iPad
Might not be good for DJ
Some games (such as angry birds) are not designed to be played by looking at the TV due to lack of cursor, so latency won't matter because you'll be looking at the iPad.
Games such as Max Adventure may or may not see an impact
Racing games, perfect for big screen, might need something with lower latency. Ideally, the latency for fast paced games should be no more than 1 to 2 video frames (33 to 66 ms) for the best experience.
Keep in mind that this is beta 1. Speed of software is typically optimized toward the end of the development cycle, so Apple is likely to improve the speed of iOS 5 display mirroring in the next few months. Meanwhile, for those who want to connect to TV today, you can buy the Apple iPad HDMI adapter for $39.00.
PS. For those who want to try this now with iOS 5, both devices need to be provisioned under an Apple developer account.

Related Posts