iPad 2 Garageband Production: Blue Monday + Just Like Heaven Covers
Amazing full song covers, recorded with only iPad Garageband instruments.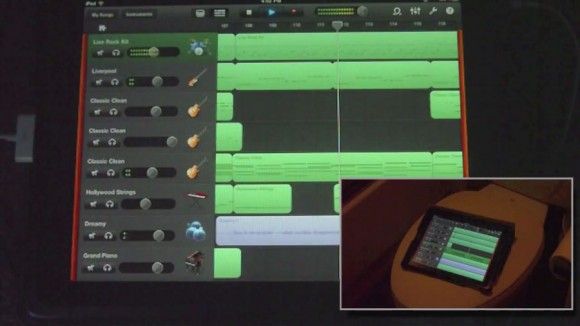 Each track of the recording is made in real time with Garageband: [App Store, $4.99] on iPad. Vocal recorded with iPhone headset mic.
Cure: Just Like Heaven, iPad Garageband Cover
Video is song Just Like Heaven by Cure. Cover made by musician Televator Muzak who describes:
"It was a fun first attempt and the iPad GarageBand app is definitely a great creation tool!"
Instruments used: Live Rock Drum Kit, Liverpool, three Classic Clean guitars, Hollywood Strings, Dreamy, and Grand Piano.
New Order: Blue Monday, iPad Garageband Cover
Video is song Blue Monday by New Order. Instruments used:
Hyper Dance synth, House Drum Machine, New Wave Bass (of course), Hollywood Strings, Classic Clean Guitar (w/ Chorus and Echo), Small Room Vocals, Synthetic Voice and Plucky Synth. Reverb is Large Hall and Echo is Dance Echo A.
[TelevatorMuzak on youtube]

Related Posts