iOS 5 on iPad 2, Developer Preview
Video quick look of Apple's new iOS 5 features with developer preview on iPad 2.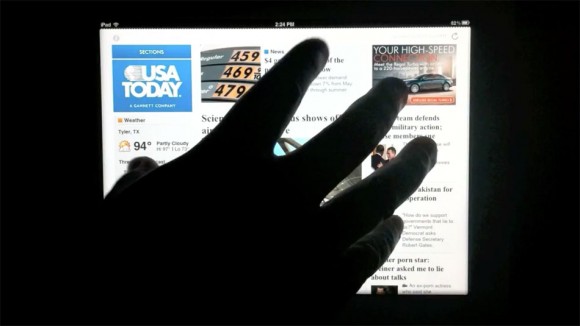 Video: iOS 5 on iPad, Developer Preview
Short 2 minute video (speed up in iMovie by one speed setting) contains quick overview of iOS 5 features:
iCloud settings
Multi-touch gestures

go to home screen (4 finger pinch)
go to multitasking screen (4 finger swipe up)
go to next app (4 finger swipe side)

AirPrint
Private browsing in Safari (GUI turns black)
Safari tabs
Notifications
Game Center
iTunes Store, re-download of purchased content
Music app / iPod app
iMessage (blue bubble for free SMS MMS like iMessage)
Find on page
Split keyboard
Time Capsule / AirPort admin
Twitter integration
iOS 5 contains plenty more features. AirPlay speed / latency or how to create custom gesture are not shown in this video.

Related Posts