Immersive War Reporting: Condition ONE iPad 2 Demo
Photojournalist covering the Libyan war with new, immersive camera technology viewable on iPad.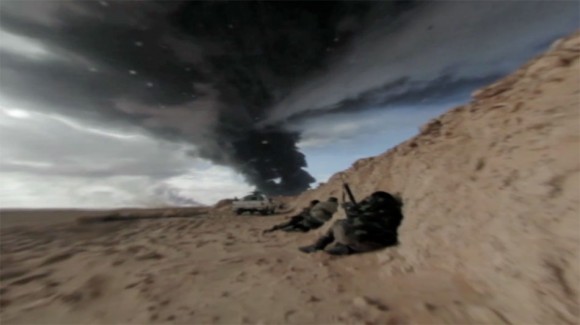 Video: Immersive War Reporting, Condition ONE iPad
Footage: The Libyan desert near Ras Lanouf, March, 2011:
Photojournalist Patrick Chauvel brings us this immersive video from the rebels' front lines. "It's a very sad story," he says. "These guys are students, they're hairdressers, they're bakers, bankers, philosophers, teachers. They are no military."
So it's war as Condition ONE tech demo? Photojournalist and filmmaker Danfung Dennis wrote:
I have been covering the wars in Iraq and Afghanistan since 2006. Patrick Chauvel has covered over 20 conflicts, starting in Vietnam when he was 18. We have seen how society has become numb to our still images.

So, along with our team, we are attempting to combine the power of the still image with advanced technology to change the vernacular of photojournalism and news. Instead of opening a window to glimpse another world, we are attempting to bring the viewer into that world. We believe shared experiences will ultimately build a common humanity.

Through our work we hope to shake people from their indifference to war, and to bridge the disconnect between the realities on the ground and the public consciousness at home. By bearing witness and shedding light on another's pain and despair, we are trying to invoke a common humanity and a response to act.

New technology can be a powerful medium for truth. Television broadcasts during the Vietnam War had a disruptive impact on society by providing uncensored images of war into living rooms across America for the first time. We hope to have that same impact by providing powerful immersive experiences.
Expected release of Condition ONE is in mid 2011.
Condition ONE Technology
Although it doesn't use 360 degree lens, the technology captures more than what's right in front of the camera:
"The entire human field of view is captured on these camera systems, and the stories are edited specifically for the tablet application to create a truly immersive experience."
During the action, the user can move the camera to the sides and up and down. As shown, the viewing system is thankfully non-Flash and works on iPad. The technology, production, and editing seems to be made on Mac (iMac and possibly Mac Pro).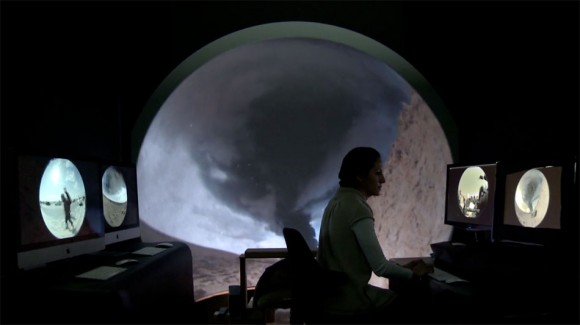 Hell and Back, Assault on a Taliban
Danfung Dennis also filmed Hell and Back Again, about the 2009 US offensive against the Taliban and US veteran's challenge at home:
The film has won World Cinema Cinematography Award at 2011 Sundance Film Festival, among other awards.
Hell and Back Again is screening at Washington DC – Silver Docs on June 22 (Wed) + June 23 (Thur), and Edinburgh International Film Festival on June 25 and 26.
[Condition One via Time and 9to5]

Related Posts