iCloud Logo Designed with Triple Golden Ratio
Hidden design laws discovered within the new iOS 5 iCloud logo.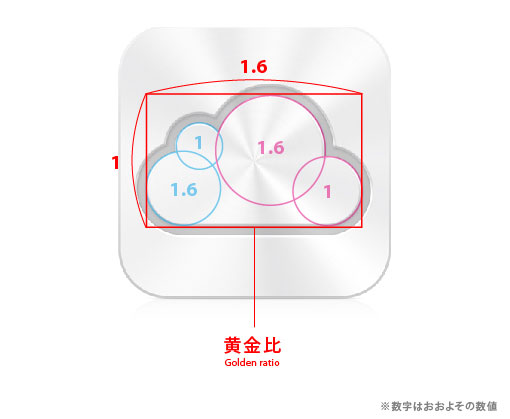 Is the iCloud icon, introduced by Steve Jobs at 2011 WWDC, made of irregular curves?
Not exactly, Stam Design (English translation) discovered. It is actually "composed of geometry". More specifically composed of 4 circles. Comparing the diameter of the circles of the same color:
"Holy smokes, the ratio of 1:1.6 and the left and right circles, and that is close to the golden ratio proportions beautifully something."
Upon further inspection, it turned out that the height and width of the Apple cloud icon also comes out to be golden ratio.
OMG, triple rainbow golden ratio all the way.
NOT by Alan van Roemburg
Some people, even Daring Fireball, attribute this to be "discovered" by Alan van Roemburg, who posted the image on Tumblr on June 15. But that's the result of Alan's false claim for authorship, because he originally did not credit Stam Design (but linking to himself instead). Note: Most Tumblr users do not list their sources, so listing some Tumblr post as creator is more often than not begging to be wrong (there are exceptions of course).
Alan did update his post to include the correct author after another user and OP commented on it (Alan removed the comments though). The credit line is still misleading, linking to Alan Roemburg himself first. (He should not link to himself. Modifying an image to pretend as his own doesn't quality as authorship.) LAME Alan is lame.
Update: OP submitted a tip and Daring Fireball notes proper credit on June 20.
[Stam Design in Japanese (English translation)]

Related Posts