Final Cut Pro X: Detailed Workflow Walkthrough & Analysis vs. FCP 7
LONG article about differences in workflow between Final Cut Pro X and legacy Final Cut Pro 7. The good, the bad, and rumors busting by Steve Martin.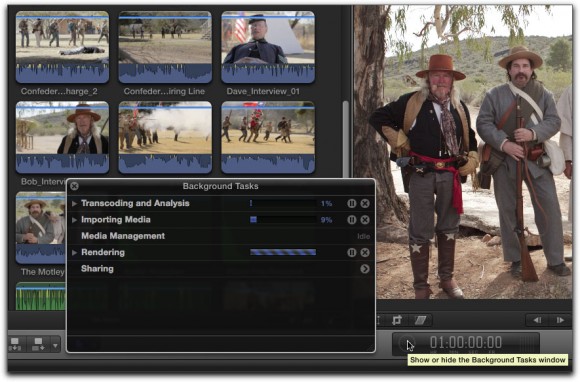 Steve Martin talks about importing, organizing, editing, and sharing video productions with Final Cut Pro X [App Store]. Long and detailed article made for seasoned FCP users and video professionals:
[Final Cut Pro X - A first Look by Steve Martin]
Import: Smart Collections
FCP X has "Find People" and "Create Smart Collections after analysis" turned on by default:
"When your footage imports, an algorithm determines if there are any people in the imported clips then intelligently places them into Smart Collections labeled One Person, Group, Wide Shot, Close Up, and so on. Having FCP do this for you automatically is like having your own assistant editor go through your footage and sort it before you even begin working with it."
Tape-Based Camera Support?
Does Final Cut Pro X support tape-based cameras?
One of the rumors that cropped up on the blogosphere was that FCP X would no longer support tape-based cameras. The screen shot below is the import window from my connected Sony HDV camcorder. As they say on my favorite cable show Mythbusters: "busted."
Final Cut Pro 7 Project Support?
Legacy Final Cut Pro 7 project support?
"Will I be able to open my legacy Final Cut Pro projects in FCP X? The answer is a resounding no. FCP X is built on an entirely different foundation; from it's 64 bit architecture, to its' trackless editing paradigm, there is no way to translate a FCP 7 sequence into an FCP X Project."
Workflow covered includes:
File import, ProRes transcoding
Smart Collections
Audio fixing, optimization, and analysis
Media / event / library organization
Effects
Color adjustments
Editing: "Some of the most welcome changes in FCP X have come in the trimming department"
Export: "Sharing your finished projects across a wide variety of delivery platforms is now easier than ever using Final Cut Pro's Share menu."
And more at:
[Final Cut Pro X - A first Look by Steve Martin]

Related Posts