David Karp, Tumblr Founder & CEO, Mac User
24 years old founder and CEO of the $40 million venture funded Tumblr talks about how he works.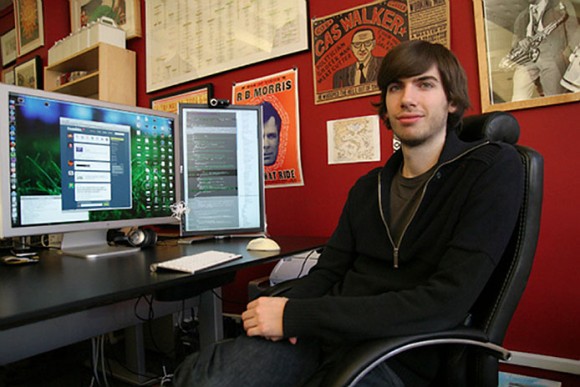 David Karp in Inc. article "The Way I Work":
"I have two screens on my desk. The first is a 30-inch Mac monitor. I always have Tumblr open in the Web browser. The second is a vertical screen, which I use only for writing code."
Another tip: he uses Action Method notebooks from Behance.
David Karp also describes how Tumblr site changes are rolled out:
"We roll out changes to the site every day at 11 a.m. We stagger out small changes, so we can see what works and what doesn't. We chose that time because we want engineers around if there's an issue. Plus, it's early enough that there's not much traffic. Basically, everything that was finished the day before gets pushed the next morning. It could be a bug fix or a new language file—say, a feature that was translated into French. Or it could be a new feature that's dark launched—the public can't see it, but we have the ability to test it."
Good idea. He's also goes for a good balance on work and play. On relaxing after work with his girlfriend:
We use Apple TV to watch television shows from iTunes. We both love Futurama. I recently got her into Top Gear, a car show on the BBC.
[Inc.]
Top image: flickr.com/photos/nyc30/4319322072/

Related Posts