Built iPad App Prototype on iPad with AppCraftHD [Review]
An iPad app to make app prototypes. No need to learn XCode, Objective-C, and iOS SDK. Currently free. (iPhone version coming soon).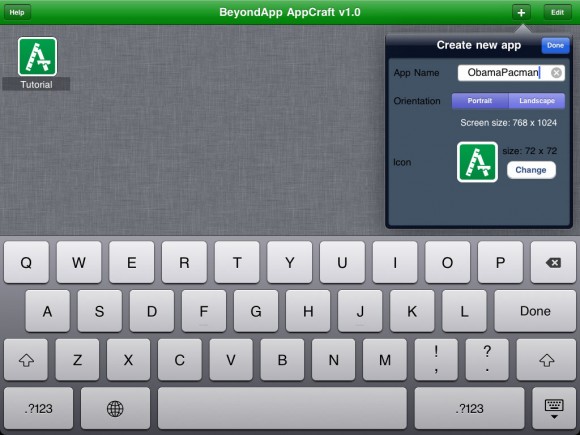 AppCraftHD Features
AppCraftHD [App Store] is an iOS app authoring tool made by Korean developer BeyondApp, which describes:
"We've been [developing] this tool for more than 2 years and still try hard to improve it more and more."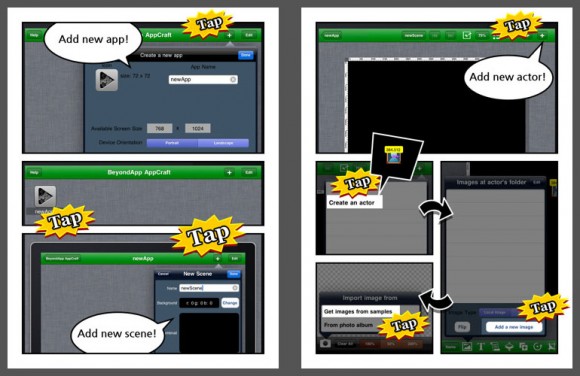 You can build an iOS app prototype by using Scenes, Actors, Events, and share through FTP transfers. Built in features include:
Web browser, E-mail, movie player, multi-touch, iPad 2 camera support,
CSV data
OpenGL-ES 2D graphics engine
OpenAL based sound engine
2D physics engine (rudimentary)
Scene based navigation, GUI scenario editor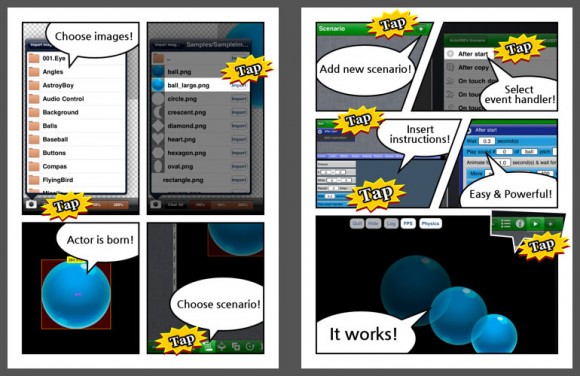 Customize with your own content:
Import images from photo album or camera
Record your own sound right on iPad
Record movie files on iPad 2
FTP server to access resources (if you turn it on)
AppCraftHD [App Store] is Currently free. Download now on iPad or iTunes. Tutorial videos are in KOREAN
AppCraftHD Quick Review
How well does AppCraftHD work?
Images of their app in App Store is quite innovative (probably made with Comic Life [App Store]). But the app doesn't contain that spirit.
It is an interesting proof of concept but as of AppCraftHD v1.0, nowhere near production quality. They are not related to Minecraft, but it's quite similar in terms of clunky creation. Expect to add your own content, as the sample files aren't worthy to be used in iOS. The idea has potential though, so perhaps some major investment could bring this up to a more usable level.
What needs improvement?
Stability: App crashed on iPad 2 with iOS 4.3.3 when ObamaPacman tried to create and modify project. (Changes were saved by the app but some GUi buttons causes the app to crash). Needs more stability testing.
Flipping device horizontally should switch the scene horizontally.
Fix bugs with the sample project. Horizontal view of the clock is squished.
FTP button text should be fixed. Should make it a switch.
The developer should try to understand Apple's iOS development guidelines (such as apps can be both horizontal and vertical)
AppCraftHD Future Plans
iPhone Support: Expected to be updated to Universal app soon, to add iPhone and iPod touch support. The developer wrote v1.07 "Becomes an universal app," and contains bug fixes. That's probably still in the App Store approval pipeline.
App Store submission: In the future, the developer plans to offer a service to convert apps created in AppCraft to an app that can be submitted to Apple App Store. That's likely to be far away (if it ever materializes), because you need to add all kinds of resources (for example, here's the Apple's guideline on images) to qualify for the App Store. Currently AppCraftHD doesn't even consider those required resources yet.

Related Posts