Buy Factory Unlocked iPhone 4 in the US
Apple started offering factory unlocked GSM iPhone 4 to U.S. customers today.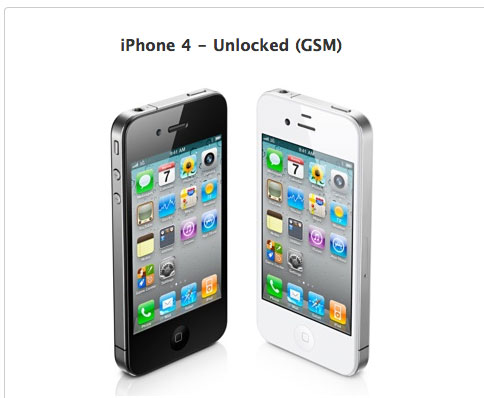 Factory unlocked iPhone 4 are now available in the U.S. for $649 (16GB) and $749 (32GB) in both black or white.
Apple's factory unlocked iPhone are available in many countries around the world for awhile, but they are not available in the U.S. until now. Before today, there are only two ways a U.S. locked iPhone can be unlocked:
Unlocked iPhone is for those who do not want a contract or for those who travel internationally frequently, because you can swap out the SIM card with one from another carrier at anytime.
Apple describes:
"Unlocked iPhone 4 allows you to choose your own GSM carrier, change carriers at any time, and even use multiple carriers if you travel frequently."
For those with a standard sized SIM card, you can either get a micro-SIM from your carrier or buy an inexpensive Micro SIM Cutter
.
There is a footnote though:
"An unlocked iPhone may be activated on supported GSM carrier networks."
You might have to buy a pay as you go SIM from an official iPhone carrier to activate the iPhone, although it could just be some useless legal footnote. So if you want to buy an Apple factory unlocked iPhone 4 in the U.S., just give it a try with a T-Mobile US sim card and see whether it works.
Official U.S. Factory IMEI iPhone Unlock?
So what does the Apple factory unlocked iPhone unlock mean? Existing U.S. purchased iPhone might gain official IMEI unlock in the future. However, AT&T does not offer IMEI iPhone unlock and has not promise to offer such a service at this time.
Or you can buy one today from Apple Store online:
Or from Amazon:
Apple iPhone 4G 16GB Quadband World GSM Phone (Manufacturer Unlocked)

Apple iPhone 4G 32GB Quad-band World GSM Phone (Factory Unlocked)

Related Posts